Senses Park at Asitz in Leogang
Get in touch with your senses and get in touch with yourself! How does it feel to walk barefoot across earth, sand and stone? And does the first bite into a homemade flatbread deliver on the promise of the aroma? The Senses Park is located right next to the middle station of the Asitzbahn cable car. It features over 30 stations that transport families, children and adults off into the world of the senses – see, smell, hear, taste and touch.
Senses Park, Asitzbahn middle station 
Address
Hütten 39, 5771 Leogang
Senses Park right next to the middle station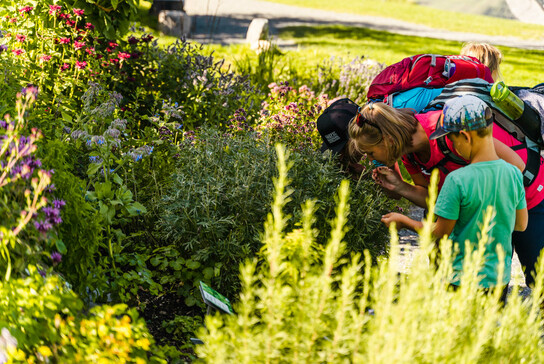 Whatever the ailment, there's a herb that can provide relief – and it's often right on your doorstep! On the lovingly maintained herbs- & alpine plants path , you'll discover around 80–100 medicinal plants, trees, shrubs, Alpine flowers and culinary herbs. Find out how our native herbs are used for cooking and learn about the effects of rosemary, lavender and hyssop.
TEH (Tradition European Medicine) herbal workshop
Every Thursday 10:00 am to 12:00 am – Meeting point Stöcklalm – Price: € 10,00 per person,
Registration until Wednesday 04:30 pm at the Info Office Asitz lift Tel: +43 6583 8219 15
Tips from our TEH herbal expert every Tuesday and Thursday from 01:00 pm.
An action-packed feast of fun for the whole family!
Find an accomodation & book