New lines, trails and much more
The summer of 2019 has it all: For example, the bikers can expect four new lines, trails and a new pump track including a dirt- and jumpline. We introduce you to all the novelties in a short and crisp way!
Steinberg Line by FOX & Antonius Trail
The flowy,10 km long STEINBERG LINE BY FOX offers an unique view of the Leoganger Steinberge. For rookies and pros, it's THE new highlight at the Bikepark Leogang!
The starting point is the mountain station of the Steinbergbahn, which opens its doors for the first time this summer for its athletes.
Bikers can enjoy theirselves on the bike park's most flowy line with an average gradient of 9% and a length of 10 km.
OPENING: IN EARLY JULY 2019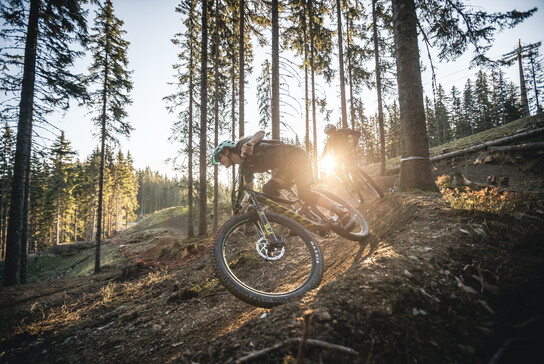 The Bikepark Leogang is also expending its offer in the Single Trail area, with the new build ANTONIUS TRAIL.
Starting point of the Antonius Trail is a few meters after the turn-off of the Flow Link. This natural, narrow Single Trail is technically very challenging and winds its way through forest passages. At the end Antonius Trail and the new Steinberg Line by FOX unite. You can enjoy yourself on a track lenght of 1,4 kilometres.
OPENING: END OF JUNE 2019
A new Pump Track including a dirt- and jumpline in the Bikepark Leogang
In addition to the new routes, the Bikepark Leogang is also expanding its offerings in the bike park's destionation at the Asitzbahn.
Moreover, apart to the brand new ASPHALTED PUMPTRACK by VELOSOLUTIONS, bikers can also look forward to a new Jump Line and a Dirt Line on a total area of 5000 m².
OPENING: BEGINNING OF JULY 2019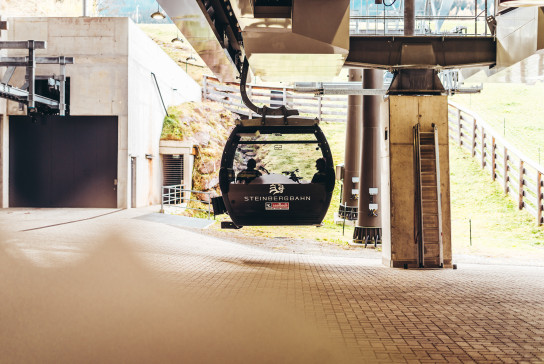 From now on, STEINBERGBAHN is opening its doors for you for the first time! With this, there is a second feeder to the Asitz mountain station. Therefore you can enjoy even more of riding!
Here, briefly the new opening hours of the Steinbergbahn:
05/30/19 - 09/15/19: Steinbergbahn to mountain station: Thursday to Sunday + on holidays
10/21/19 - 11/03/19: Steinbergbahn to mountain station: daily
We have summarized all information about the opening hours of the tracks and the Riders Playground
Also besides the Bikepark, something is Happening in the Region Leogang - Schwarzleo & Forsthof Trail
The natural, 1,8 km long SCHWARZLEO TRAIL starts above the Forsthofalm and winds its way down into the Schwarzleotal. Several Northshores, technical hairpin bends and long, flowy passages, are the basic of this trail.
OPENING: Already finished - you can ride it, once the snow is gone!
In addition, for those who want to get out of it the most: This summer, the new Saalfelden Leogang Card comes out. With this card you can do the whole BIG 5 Challenge and take the gondola once a day up the mountain.
We are looking forward to an exciting bike summer with you - stay tuned