Nostalgia Ski World Championships 
Back in time to the early days of skiing
From the museum onto the slopes. Every two years the people from Pinzgau and other nostalgia fans from all over the world go down into their cellar to get those ancient, traditional skis out for a race of a different kind. Numerous crazy guys and girls from different nations are once again expected in a sporting outfit from their grandparents – this means in leather boots and with more than 80 years old wooden skis.
January 24th - 26th, 2020
Kontakt
Address
Leogang Anno 1900
Sonnrain 12/2
5771 Leogang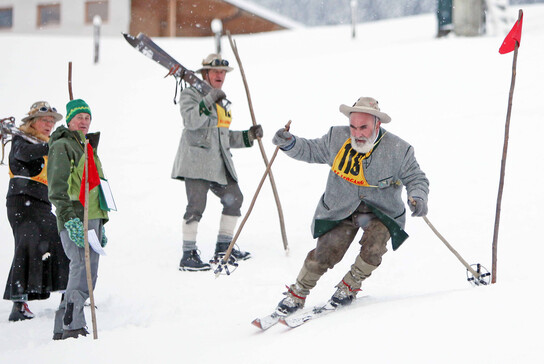 Tradition is for everybody
In two competitions, male and female participants are separated depending on the category and evaluated according to a points system. In the end there will be six world champions. This event is of course also about the winning the race, but mainly about the tradition and the happy and cheering faces. Everyone is welcome - no matter if you join as a spectator or a participant. One thing is for sure: this highlight should not to be missed!
WELCOMING EVENING
Welcoming evening with fun games at the ice rink in Sonnrain with introduction of the particitpating clubs. 
Competition: LONG DISTANCE RUN 
Start: Asitz middle station | Finish: valley station of Steinbergbahn
Route: "Leg-burner", approx. 2,5 km long with a difference in altitude of 520 m
Start of the long distance race at Asitz I/II above Après-Ski, Bar/Pub - Steinadler Entertainment at the finish area at the valley station Steinbergbahn
Big celebratory evening with prive giving ceremony of the long-distance race and live music
Competition: SLALOM
Start & finish: Schantei lift – upper village square in Leogang
Route: Schantei - approx. 250 m long
Start of the slalom at the 'Schantei'
Award ceremony – slalom and crowning of world champion at the finish area - Schantei | Send-off.