APRIL! APRIL!
Winter fun on the mountain, spring fever in the valley: Discover the most beautiful sides of Saalfelden Leogang for three weeks.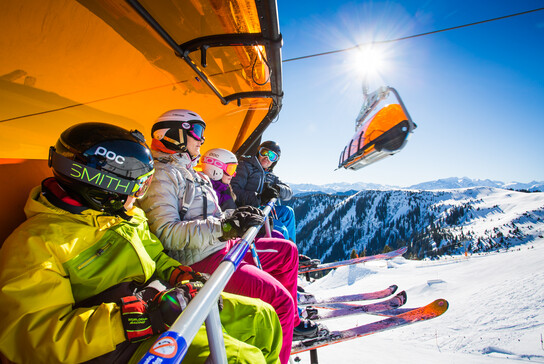 Alle, die vom Skifahren noch nicht genug haben, können bis 22. April die Skipisten am Asitz in Leogang genießen!
Der gesamte Skicircus Saalbach Hinterglemm Leogang Fieberbrunn dreht sich noch bis 31. März. Von 01. bis 07. April sind die Bereiche Schattberg, Westgipfel, Zwölferkogel, Schönleiten und Asitz geöffnet, von 08. bis 14. April sind die Schönleitenbahn (bei entsprechender Schneelage) und Asitz in Leogang in Betrieb.
Ab dem 15. bis 22. April kann man dann sogar noch am Asitz in Leogang den Sonnenskilauf auskosten und auch der NITRO Snowpark bleibt bis dahin noch geöffnet.
Doch damit nicht genug!
Im Tal erwacht schön langsam der Frühling. Kostenlose geführte Wanderungen wie Hüttenwanderungen, Fackelwanderungen, Lichtholzwanderungen und auch Sagenwanderungen werden angeboten. Wer lieber auf zwei Rädern unterwegs ist kann an Bikepark Schnuppertrainings oder an geführten Trail-Touren teilnehmen. Ab 13. April ist der Biketransport mit der Asitzbahn möglich und der Hangman II wird im The Epic Bikepark Leogang geöffnet.
Kulinarisch geht es bei der E-Bike-Genusstour zu. Auf dieser Tour lernt man die Direktvermarkter der Region kennen und kann sich das ein oder andere Schmankerl für zuhause mitnehmen. Neben den sportlichen Aktivitäten werden gemütliche Pferdekutschenfahrten in Saalfelden Leogang angeboten.
Eben April! April! So wie ich will!
This could be also interesting for you:
Find an accomodation & book