Unterlettlhof
farm, farmhouse, holiday apartment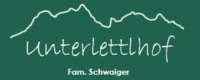 We offer 3 comfortable apartments / suites for 2 - 7 people. You are 40 - 85 m² in size, with 2or 3 each separate bedrooms (one double room with Hochbett- and a triple), or a double room with bunk beds and an apartment with 3 double rooms, each with private bathroom fully equipped kitchen with oven, coffee maker, cable TV, radio, and partially equipped with a couch. Each apartment has a small entrance hall with cloakroom, bathroom with hairdryer and a separate toilet. Bed and table linen, and towels are provided and changed sufficiently. For the little ones we have a toddler equipment.

A ski room with heated ski boot dryer is at your disposal
Free W-Lan in the Ferienwohnungen and in the lounge!
The Tauern bicycle trail leads ri
This accommodation is a member of
---
Facilities
Facilities / Services

storage space for surfboards
garden furniture
herb garden
private alpine hut
car parking lot
use of clothes dryer
TV room
WiFi
bicycle parking space
drying room
all -year operation
internet - e-mail available
parking space for bicycles
ski storeroom
kitchen for guests
family friendly
common room
non-smoking common room
boot dryer
laundry facilities available
guest refrigerator
use of kitchen possible
garden barbecue
short stays welcome
barbecue area (with benches)
covered parking for motorcycles
pets welcome
tiled stove

Sports / Leisure time

garden / meadow
sunbathing lawn
lounge chairs free of charge

Location

right on the bike path
lake - distance (m): 3000
outskirts of town
on the hiking trail

Groups

groups possible with max. pers.: 20

Conditions

With each summer holiday beginning with 2016 in one of our apartments or rooms is the Löwen Alpin Card included!
---
Contact & Directions
Unterlettlhof
Almdorf 9,
5760 Saalfelden AT
Arrival
Check in: from 3 p.m.

Check out: 9 a.m.


Directions:
Coming from Saalfelden:

In Saalfelden at the 1st roundabout turn left towards Maria Alm. Turn right after approx. 4 km. Almdorf district.
Apartments & Prices
Please select arrival date and nights
Rooms
| | |
| --- | --- |
| Size | 40 m² |
| Occupancy | 1 - 4 adults , 0 - 3 children |
| Rooms | 2 |
| Bedrooms | 1 |

Room details

Ferienwohnung mit einem Schlafzimmer und Balkon
Größe des Apartments: 40 m²

Die gemütliche Ferienwohnung im 1. Stock verfügt über eine voll ausgestattete Wohnküche, ein großzügiges Schlafzimmer, das Platz für zwei bis vier Personen bietet, sowie ein Badezimmer und ein separates WC. Der Balkon mit wundervoller Aussicht lädt zum "Seele baumeln lassen" ein.

Saalfelden-Leogang Card inklusive. 

 

Auf Anfrage können wir auch eine Kleinkindausstattung (Babybett und Hochstuhl) bereitstellen. All unsere Gäste erhalten die Saalfelden-Leogang-Card beim Check-in (auch online möglich). Diese Karte bietet eine Vielzahl an Angeboten und Preisvorteilen bei den Bergbahnen und anderen Sportanlagen sowie Eintritten.

 

Room/apartment features

central heating, hairdryer, TV, towels available, toaster, electric stove, foldaway bed, kitchen and table linen, dishwasher, dish sink, freezer compartment, combination microwave, furniture suite, refrigerator, cable TV, WiFi, family room/apt., balcony, open foot-end of bed, open plan kitchen/living room, heater, kitchen, vent hood, internet connection available, kettle, microwave, kitchen utensils, coffeemaker

Bed distribution

cot, single bed

Available

Available, No arrival

Only departure

Not available

| | |
| --- | --- |
| Size | 67 m² |
| Occupancy | 1 - 4 adults , 1 - 3 children |
| Rooms | 3 |
| Bedrooms | 2 |

Room details

Ferienwohnung mit zwei Schlafzimmern und Balkon
Größe: ca.67 m²

Die sehr geräumige Ferienwohnung Breithorn im 1. Stock verfügt über eine voll ausgestattete Wohnküche, zwei getrennte Schlafzimmer, die insgesamt Platz für maximal sieben Personen bieten, sowie zwei Badezimmer und zwei separate WCs. Der Balkon ist von jedem Schlafzimmer aus erreichbar und lädt zum Verweilen und Entspannen ein.

Zusätzlich stehen unseren Gästen ein Skiraum, ein Skischuhtrockner sowie ein versperrter Stauraum für Räder und andere Sportgeräte zur Verfügung.

Auf Anfrage können wir auch eine Kleinkindausstattung (Babybett und Hochstuhl) bereitstellen. Unsere Gäste erhalten die Saalfelden-Leogang-Card beim Check-in (auch online möglich).

Parkplätze. Haustiere  erlaubt

Room/apartment features

electric stove, balcony, vent hood, TV, kitchenette, island kitchen, refrigerator, room/apt. larger (m²): 1, refrigerators available, dishes available, coffeemaker, dish sink, dishwasher, kettle, bed linen available, balcony (in some rooms)

Bathroom facilities

bathtub, shower, separate toilet

Bed distribution

cot, couch, double sofa bed

Available

Available, No arrival

Only departure

Not available

| | |
| --- | --- |
| Size | 58 m² |
| Occupancy | 1 - 4 adults , 0 - 2 children |
| Rooms | 3 |
| Bedrooms | 2 |

Room details

Ferienwohnung Hochkönig mit zwei Schlafzimmern und Balkon – Dachgeschoss
Größe: ca. 65m²

Die großzügige Ferienwohnung im 2. Stock verfügt über eine voll ausgestattete Wohnküche, zwei getrennte Schlafzimmer, die Platz für vier Personen bieten, sowie zwei Badezimmer und ein separates WC. Der Balkon im zweiten Stock bietet eine wunderschöne Aussicht über unser malerisches Almdorf und die umliegende Bergkulisse.

Zusätzlich stehen unseren Gästen ein Skiraum, ein Skischuhtrockner sowie ein versperrter Stauraum für Räder und andere Sportgeräte zur Verfügung.

Auf Anfrage können wir auch eine Kleinkindausstattung (Babybett und Hochstuhl) bereitstellen. Unsere Gäste erhalten die Saalfelden-Leogang-Card beim Check-in (auch online möglich).

Parkplätze 

Ferienwohnung mit zwei Schlafzimmern und Balkon – Dachgeschoss
Größe: ca. 65m²

Die großzügige Ferienwohnung im 2. Stock verfügt über eine voll ausgestattete Wohnküche, zwei getrennte Schlafzimmer, die Platz für vier Personen bieten, sowie zwei Badezimmer und ein separates WC. Der Balkon im zweiten Stock bietet eine wunderschöne Aussicht über unser malerisches Almdorf und die umliegende Bergkulisse.

Zusätzlich stehen unseren Gästen ein Skiraum, ein Skischuhtrockner sowie ein versperrter Stauraum für Räder und andere Sportgeräte zur Verfügung.

Auf Anfrage können wir auch eine Kleinkindausstattung (Babybett und Hochstuhl) bereitstellen. All unsere Gäste erhalten die Saalfelden-Leogang-Card beim Check-in (auch online möglich).

 

Room/apartment features

central heating, electric stove, vent hood, rustic furniture, kitchen utensils, separate bedroom/s: 0, dishes available, cable TV, fax connection, highchair, open plan kitchen/living room, separate living room, foldaway bed, kitchen and table linen, toaster, family room/apt., microwave, radio, dish sink, hairdryer, closet, heater, island kitchen, refrigerators available, freezer compartment, towels available, garden, open foot-end of bed, balcony, garden furniture, no carpet, separate bedroom/living room, kettle, combination microwave, meadow, furniture suite, dishwasher, bed linen available, TV, pets permitted on request, coffeemaker, kitchen, WiFi, refrigerator, anteroom, cooking possibilities

Bathroom facilities

bathtub, separate toilet, shower

Bed distribution

sofa, double bed (1 bed/2 mattresses), single bed, bunk bed, cot

Available

Available, No arrival

Only departure

Not available
Cheapest room
Best offer for your search
---
per unit/night
from €60.00
Sicher mit SSL-Zertifikat
Info
Mo-Fr 8:00 bis 12:00 und 13:00 bis 17:00 Uhr