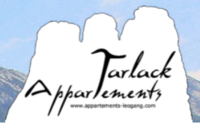 Spend your holidays in the best location of Leogang. Enjoy your vacation without the stresses and strains of daily life. Leave your car in our parking lot and enjoy a car-free holiday.
This accommodation is a member of
Privatvermieter Saalfelden Leogang
Saalfelden Leogang Card
---
Facilities
Facilities / Services

boot dryer
bread/rolls service
car parking lot
family friendly
internet - e-mail available
parking space for bicycles
ski storeroom
terrace

Location

central location
on the hiking trail
right at the cross-country ski trail
right at the ski-bus/ hiking-bus/ bus stop
right on the bike path
right on the slope

Meetings / Conferences

WiFi
large screen
writing desk
---
Contact & Directions
Appartements Tarlack
Hütten 34 und 1a,
5771 Leogang AT
Licensenumber: 50609-005083-2020
Arrival
Check in: from 03:00 p.m. / Check out: till 10:00 a.m.


Apartments & Prices
Please select arrival date and nights
Rooms
| | |
| --- | --- |
| Size | 52 m² |
| Occupancy | 2 - 4 adults , 0 - 2 children |
| Rooms | 2 |
| Bedrooms | 1 |

Room details

Neue Appartements direkt neben der Talstation. Appartement A mit 1 Schlafzimmer, Wohn-Schlafraum, Bad und WC, Balkon, Sauna und Internet.

Room/apartment features

dishwasher, electric stove, bed linen available, separate bedroom/living room, sauna, non-smoking room/apt., furniture suite, refrigerator, cable TV, dishes available, TV, kitchen and table linen, dish sink, microwave, WiFi, open foot-end of bed, vent hood, coffeemaker, balcony, kettle, island kitchen, refrigerators available, internet connection available

Bed distribution

couch, double sofa bed, additional couch

Bathroom facilities

shower or bathtub, double sink, separate toilet

Available

Available, No arrival

Only departure

Not available

| | |
| --- | --- |
| Size | 62 m² |
| Occupancy | 2 - 6 adults , 0 - 2 children |
| Rooms | 3 |
| Bedrooms | 2 |

Room details

Neue Appartements direkt neben der Talstation. Appartement B mit 2 Schlafzimmer, Wohn-Schlafraum, Bad und WC, Balkon, Sauna und Internet.

Room/apartment features

electric stove, vent hood, refrigerator, kettle, balcony, internet connection available, dishwasher, open foot-end of bed, kitchen and table linen, island kitchen, dish sink, WiFi, coffeemaker, cable TV, TV, separate bedroom/living room, furniture suite, microwave, sauna, non-smoking room/apt., bed linen available, dishes available, refrigerators available

Bathroom facilities

separate toilet, double sink

Bed distribution

double sofa bed, additional couch

Available

Available, No arrival

Only departure

Not available

| | |
| --- | --- |
| Size | 90 m² |
| Occupancy | 6 - 7 adults , 0 - 1 children |
| Rooms | 1 |
| Bedrooms | 1 |

Room details

Neue Appartements direkt neben der Talstation. Appartement C mit 3 Schlafzimmer, Wohnküche, 2 Bäder und WC, Balkon, Sauna und Internet.

Room/apartment features

island kitchen, refrigerator, vent hood, balcony, kitchen and table linen, microwave, dishwasher, oven, dish sink, electric stove, sauna, non-smoking room/apt., separate bedroom/living room, furniture suite, dishes available, desk, TV, WiFi, internet connection available, refrigerators available, coffeemaker, cable TV, kettle, open foot-end of bed

Bathroom facilities

shower or bathtub, double sink, separate toilet

Bed distribution

couch, additional couch

Available

Available, No arrival

Only departure

Not available

| | |
| --- | --- |
| Size | 110 m² |
| Occupancy | 4 - 10 adults , 0 - 2 children |
| Rooms | 5 |
| Bedrooms | 4 |

Room details

Neue Appartements direkt neben der Talstation. Appartement D mit 4 Schlafzimmern, Wohnküche, 2 Bäder und WC, Balkon, Sauna und Internet.

Room/apartment features

balcony, cable TV, kettle, kitchen and table linen, sauna, furniture suite, dishwasher, dishes available, internet connection available, TV, microwave, refrigerators available, island kitchen, refrigerator, desk, dish sink, open foot-end of bed, wheelchair accessible room/apt., non-smoking room/apt., WiFi, coffeemaker, separate bedroom/living room, vent hood, electric stove

Bed distribution

couch, additional couch

Bathroom facilities

separate toilet, double sink, shower or bathtub

Available

Available, No arrival

Only departure

Not available

| | |
| --- | --- |
| Size | 58 m² |
| Occupancy | 2 - 5 adults , 0 - 3 children |
| Rooms | 1 |
| Bedrooms | 1 |

Room details

Penthouse-Appartement mit 1 Schlafzimmer für 2-5 Personen. Die Wohnung verfügt über ein Bad mit WC und Dusche, ein separates WC, 1 Schlafzimmer und eine Wohnküche mit Schlafmöglichkeit.

Room/apartment features

TV, pets permitted on request, cable TV, freezer compartment, towels available, balcony furniture, separate bedroom/living room, balcony, vent hood, WiFi, oven, separate bedroom/s: 1, coffeemaker, refrigerator, heater, kettle, dishes available, hairdryer, bed linen available, electric stove, kitchen

Bed distribution

pullout couch max. pers.: 2

Bathroom facilities

separate toilet, bath, toilet

Available

Available, No arrival

Only departure

Not available
Cheapest room
Best offer for your search
---
per unit/night
from €49.00
Sicher mit SSL-Zertifikat
Info
Mo-Fr 8:00 bis 12:00 und 13:00 bis 17:00 Uhr