Stillinghof
farm, farmhouse, holiday apartment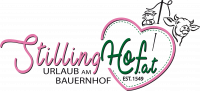 2 comfortable apartments for 2-5 persons and 2 new doublerooms in the farmhouse in a sunny, central yet quiet location in the Ritzensee recreation area. With affiliated organic farm, open all year. Ideal for hiking and biking. Baby furnishings, on request breakfast roll delivery, home-grown organic products. Bathing in the Ritzensee lake, minigolf, petting zoo, playground and much more.
This accommodation is a member of
---
Facilities
Location

lake - distance (m): 1
located on a hill
meadowlands
outskirts of town
private setting
quiet location

Facilities / Services

all -year operation
car parking lot
covered parking for motorcycles
family friendly
garden barbecue
garden furniture
laundry facilities available
parking space for bicycles
pets welcome
ski storeroom
transfer service

Sports / Leisure time

garden / meadow
lounge chairs free of charge
sunbathing lawn
---
Contact & Directions
Stillinghof
Schmalenbergham 1,
5760 Saalfelden AT
Licensenumber: 50619-005684-2020
Arrival
Check in: individual / Check out: individual
Directions: From Saalfelden: At the 1st roundabout turn left towards Maria Alm. Drive through Saalfelden until the junction Ritzensee turn right.
Rooms/Apartments & Prices
Please select arrival date and nights
Rooms
| | |
| --- | --- |
| Size | 58 m² |
| Occupancy | 2 - 5 adults , 0 - 3 children |
| Rooms | 1 |
| Bedrooms | 2 |

Room details

Neues, komfortabel eingerichtetes Appartement mit 2 getrennten Schlafräumen, schöne Küche u. gemütlicher Sitzecke, Du/WC.

Room/apartment features

radio, electric stove, refrigerators available, garden furniture, room/apt. larger (m²): 1, furniture suite, dish sink, kitchen and table linen, TV, cable TV, balcony, island kitchen, dishes available, refrigerator, vent hood

Bed distribution

double sofa bed, bunk bed

Bathroom facilities

toilet, shower

Available

Available, No arrival

Only departure

Not available

| | |
| --- | --- |
| Size | 28 m² |
| Occupancy | 1 - 2 adults , 0 - 1 children |
| Rooms | 1 |
| Bedrooms | 1 |

Room details

Neues komfortabel eingerichtetes Appartement mit Dusche/WC und Kochmöglichkeit.

Room/apartment features

dish sink, coffeemaker, bed linen available, garden furniture, TV, open foot-end of bed, island kitchen, cable TV, vent hood, dishes available, refrigerator, electric stove, radio, kitchen and table linen, balcony, room/apt. larger (m²): 1, refrigerators available

Available

Available, No arrival

Only departure

Not available

| | |
| --- | --- |
| Size | 62 m² |
| Occupancy | 2 - 4 adults , 0 - 2 children |
| Rooms | 2 |
| Bedrooms | 1 |

Room details

NEW CONSTRUCTION apartment "Seeblick" in the farmhouse - 62 m², for 2 to 4 persons.

Anteroom with wardrobe
1 bedroom
Kitchen-living room, with fully equipped kitchen (dishwasher, refrigerator, coffee machine with tabs, stove with ceramic hob and oven, sink, toaster, dishtowels, cookware & dinnerware, cutlery, glasses, etc.)
Living room with pull-out couch for 2 persons, private balcony and terrace
2 flat TV sets, free Wifi
Bed linen and towels
Bathroom with sauna (incl. infusion oils) with a view of the Ritzensee lake
Separate WC
Balcony and 21 m² terrace

Camping site

terrace space, size in square meters: 62

Room/apartment features

toaster, modern furnishing, refrigerator, WiFi, terrace, dishwasher, coffeemaker, sauna, quiet room/apartment, oven, TV, kitchen utensils, towels available, kitchen, dining room, cable TV

Bed distribution

pullout couch max. pers.: 2, number double bed/s: 1

Location/room with view/apartment

lake view

Available

Available, No arrival

Only departure

Not available

| | |
| --- | --- |
| Size | 30 m² |
| Occupancy | 1 - 2 adults , 0 - 1 children |
| Rooms | 1 |
| Bedrooms | 1 |

Room details

Der Name der im Frühjahr 2021 fertiggestellten Doppelzimmer "Rossgschirrkammer" und "Troadkasten" wurde nicht zufällig gewählt. Bis vor einigen Jahrzehnten befanden sich die Rossgschirrkammer - das war der Raum in dem das Pferdegeschirr (das Joch, das Kummet und das Brustblattgeschirr) für die Arbeitstiere aufbewahrt wurde - und der Troadkasten – hier wurde das Getreide gelagert, wirklich an dieser Stelle des Bauernhofes.

Heute strahlen die gemütlichen Gästezimmer heimeliges Wohnambiente aus. Viel Holz und andere hochwertige Naturmaterialien, indirekte Beleuchtung und warme Naturfarbentöne tragen zu einer behaglichen Wohlfühl-Atmosphäre bei.

Room/apartment features

bed linen available, TV, WiFi, balcony

Bathroom facilities

shower, toilet

Available

Available, No arrival

Only departure

Not available

| | |
| --- | --- |
| Size | 35 m² |
| Occupancy | 1 - 2 adults , 0 - 1 children |
| Rooms | 1 |
| Bedrooms | 1 |

Room details

Der Name der im Frühjahr 2021 fertiggestellten Doppelzimmer "Rossgschirrkammer" und "Troadkasten" wurde nicht zufällig gewählt. Bis vor einigen Jahrzehnten befanden sich die Rossgschirrkammer - das war der Raum in dem das Pferdegeschirr (das Joch, das Kummet und das Brustblattgeschirr) für die Arbeitstiere aufbewahrt wurde - und der Troadkasten – hier wurde das Getreide gelagert, wirklich an dieser Stelle des Bauernhofes.

Heute strahlen die gemütlichen Gästezimmer heimeliges Wohnambiente aus. Viel Holz und andere hochwertige Naturmaterialien, indirekte Beleuchtung und warme Naturfarbentöne tragen zu einer behaglichen Wohlfühl-Atmosphäre bei.

Room/apartment features

bed linen available, TV, WiFi, balcony

Bathroom facilities

shower, toilet

Available

Available, No arrival

Only departure

Not available
Cheapest room
Best offer for your search
---
per unit/night
from €65.00
Sicher mit SSL-Zertifikat
Info
Mo-Fr 8:00 bis 12:00 und 13:00 bis 17:00 Uhr