Pension Schmiderer - Vorderkasbichlhof
farm, farmhouse, holiday apartment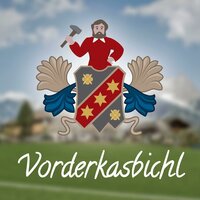 Our organic farm Vorderkasbichl is approx. 2,5 km south of the town Saalfelden with a magnificent view of the mountains. In the middle of the natur, surrounded by meadows, forest and alps. A paradise for families, away from all the truble and rush of everyday life, you can enjoy the time with your beloved ones. 
A summer toboggan run, bikeways, hiking paths and lots of other beautiful tourist attractions are within easy rich of our farm.
In winter, an ideal place to reach the skiing areas Hochkönig, Leogang-Saalbach-Hinterglemm, Zell am See-Kaprun. Cross country skiing tracks and a toboggan run are nearby.
Three comfortable apartments, about 65m², with hall, kitchen fully equipped with kitchenette, dishwasher, stove, fridge, coffee brewer, electric kettle, dishes, corner seat and sofa, 2 sep. bedrooms, 2 x shower/WC, cable TV, Wi-Fi and balcony
and
a cosy apartment, about 45m ², with hall, kitchen fully equipped with kitchenette, fridge, coffee brewer, electric kettle, dishes, corner seat and sofa, 1 sep. bedroom, shower/bathtub, sep. WC, cable TV, Wi-Fi and balcony.
We also offer bikes free of charge, petting zoo with pony, rabbits and horses, barbecue area, playground, table tennis, a cosy and generous farmhouse parlour and lots of space to play and relax for all our guests!
Visit our homepage www.pension.schmiderer-sbg.at
Registrierungsnummer: 50619-005833-2020
This accommodation is a member of
Best Price Garantie
Kinderfreundliche Hotels Saalfelden Leogang
Holidays on the farm
Saalfelden Leogang Card
---
Facilities
Sports / Leisure time

natural pond
sunbathing lawn
Trampolin
lounge chairs free of charge
riding
garden / meadow
table tennis
tobogganing
fish pond

Children

sandboxes
child-friendly
playground
children's bed
crib/baby bed
children's play area
facilities for children
Kinderschaukel
children's bikes
pony riding
petting zoo
highchair

Facilities / Services

luggage storage
all -year operation
farm produce
own garden
storage space for surfboards
covered parking for motorcycles
barbecue area (with benches)
common room
short stays welcome
private alpine hut
laundry facilities available
free use of internet
terrace
historical building
parking space for bicycles
garden barbecue
ski-service room
car parking lot
common garden
family friendly
Fahrradreparaturset im Haus
boot dryer
animals on farm year-round
guest refrigerator
garden furniture
WiFi
bread/rolls service
tiled stove
ski storeroom
bicycle parking space
use of clothes dryer
garden house

Location

quiet location
outskirts of town
on the hiking path
right on the bike path
located on a hill
near the forest
meadowlands
private setting
right at the cross-country ski trail

Groups

groups possible with max. pers.: 24

Rental

bike rental
toboggan rental
---
Contact & Directions
Pension Schmiderer - Vorderkasbichlhof
Kehlbach 9,
5760 Saalfelden AT
Arrival
Check-in/Check-out: individual
from direction Lofer: at the 3 roundabouts straight, after 1,5km turn right
from direction Zell a.See: past the shop Schwaighofer, after 1,5 km turn left
Crossing Kehlbach/Biberg turn left, signposts "Pension Schmiderer"
Apartments & Prices
Please select arrival date and nights
Rooms
| | |
| --- | --- |
| Size | 65 m² |
| Occupancy | 2 - 7 adults , 0 - 5 children |
| Rooms | 6 |
| Bedrooms | 2 |

Room details

Einen besonderen Flair vermittelt unser gemütliches, großzügig ausgestattetes Appartement (ca. 65m²) mit Vorraum, Wohnküche mit Kochnische, Geschirrspüler, Backofen, E-Herd, Kühlschrank mit Gefriermöglichkeit, Kaffeemaschine, Wasserkocher, Toaster, Geschirr, Eckbank und Sitzgruppe, 2 sep. Schlafzimmern, Dusche, zwei Waschtischen und 2 mal WC, südseitigem Balkon mit Panoramablick, Kabel-TV und freies W-LAN.

Einfach zum Wohlfühlen - helles Holz, feines Leinen und nette Sitzgelegenheit auf dem Balkon sorgen für Behaglichkeit!

Bettwäsche, Geschirr, Hand- und Badetücher sind vorhanden und werden jederzeit gewechselt.

Auf Wunsch Brötchenservice und leckere Bio-Milch.

Gönnen Sie sich eine erholsame Urlaubszeit auf unserem schönen Bio-Bauernhof!

Room/apartment features

kitchen, TV, coffeemaker, cable TV, rustic furniture, central heating, freezer compartment, garden, good as new room/apt., bed linen available, kitchen and table linen, non-smoking room/apt., toaster, heater, toilet laundry, dish sink, refrigerators available, bed linen (non-allergenic), use of washmachine, balcony, island kitchen, refrigerator, anteroom, dishwasher, garden furniture, highchair, washing machine, meadow, electric stove, room/apt. larger (m²): 65, separate bedroom/living room, WiFi, cooking possibilities, kettle, open plan kitchen/living room, quiet room/apartment, hairdryer, oven, towels available, dishes available, furniture suite, balcony furniture, open foot-end of bed, combined bedroom/living room, kitchenette, vent hood, separate bedroom/s: 2

Bed distribution

pullout couch max. pers.: 2, separate beds available, cot, additional couch, single bed, double sofa bed, couch

Location/room with view/apartment

detached unit

Bathroom facilities

shower, toilet

Available

Available, No arrival

Only departure

Not available

| | |
| --- | --- |
| Size | 45 m² |
| Occupancy | 2 - 5 adults , 0 - 3 children |
| Rooms | 5 |
| Bedrooms | 1 |

Room details

Lichtdurchflutete Räume, helles Holz und feines Leinen sorgen für Behaglichkeit in unserem gemütlichen Appartement mit Vorraum, Wohnküche mit Kochnische, Kühlschrank, kleinem Backofen, E-Herd, Wasserkocher, Kaffeemaschine, Toaster, Geschirr, Eckbank und Sitzgruppe, 1 sep. Schlafzimmer, DU/Badewanne, sep. WC, südseitigem Balkon mit grandiosem Bergblick und netter Sitzgelegenheit, Kabel-TV, gratis W-LAN.

Zur Erweiterung: Zugabe eines Doppelzimmers mit DU/WC möglich!

Hier fühlen Sie sich vom ersten Moment an wohl!

Bettwäsche, Geschirr-, Bade- und Handtücher sind vorhanden und werden gewechselt.

Weiters bieten wir Ihnen ein Brötchenservice und leckere Bio-Milch.

Genießen Sie Ihre schönste Zeit des Jahres auf unserem wunderschönen Bio-Bauernhof!

Room/apartment features

washing machine, anteroom, toaster, dish sink, bed linen (non-allergenic), combined bedroom/living room, good as new room/apt., WiFi, kitchenette, kettle, room/apt. (non-allergic), dryer, island kitchen, heater, refrigerator, microwave, highchair, bed linen available, TV, oven, quiet room/apartment, family room/apt., vent hood, cooking possibilities, open foot-end of bed, hairdryer, toilet laundry, rustic furniture, non-smoking room/apt., cable TV, furniture suite, low-noise room/apart., separate bedroom/s: 1, balcony, toiletries, coffeemaker, room/apt. larger (m²): 45, use of washmachine, open plan kitchen/living room, kitchen, dishes available, balcony furniture, closet, electric stove, central heating, refrigerators available, garden, separate bedroom/living room, meadow, kitchen and table linen, freezer compartment, towels available

Bed distribution

single bed, double bed (1 bed/2 mattresses), cot, additional couch, separate beds available, couch, separate beds

Bathroom facilities

shower, separate toilet, bathtub

Location/room with view/apartment

detached unit

Available

Available, No arrival

Only departure

Not available

| | |
| --- | --- |
| Size | 65 m² |
| Occupancy | 2 - 7 adults , 0 - 5 children |
| Rooms | 6 |
| Bedrooms | 2 |

Room details

A comfortable and generous furnished apartments (about 65m²) with ah generous hall, kitchen fully equipped with kitchenette, dishwasher, stove, fridge, microwave, coffee brewer, electric kettle, dishes, corner seat and sofa, 2 sep. bedrooms, 2x shower/WC, cable TV, free Wi-Fi and balcony awaits you.

Bright wooden furniture, linen and a combination of wooden and carpeted floor provides a comfort surrounding.

Bedclothes, dishes and towels are available and can be changed if requested.

Room/apartment features

rustic furniture, balcony, kitchen, dishwasher, freezer compartment, quiet room/apartment, kitchen utensils, cable TV, kettle, balcony furniture, bed linen (non-allergenic), bed linen available, meadow, vent hood, toaster, room/apt. larger (m²): 65, separate living room, refrigerator, carpeted bedroom, use of washmachine, hairdryer, kitchen and table linen, dishes available, furniture suite, separate bedroom/s: 2, refrigerators available, dish sink, garden furniture, anteroom, oven, separate bedroom/living room, open plan kitchen/living room, toilet laundry, island kitchen, kitchenette, microwave, highchair, WiFi, garden, coffeemaker

Bed distribution

separate beds, cot, couch, separate beds available, sofa, double sofa bed

Location/room with view/apartment

detached unit

Bathroom facilities

shower, toilet

Available

Available, No arrival

Only departure

Not available

| | |
| --- | --- |
| Size | 65 m² |
| Occupancy | 2 - 7 adults , 0 - 5 children |
| Rooms | 6 |
| Bedrooms | 2 |

Room details

A comfortable and generous furnished apartments (about 65m²) with hall, generous kitchen fully equipped with kitchenette, dishwasher, stove, fridge, microwave, coffee brewer, electric kettle, dishes, corner seat and sofa, 2 sep. bedrooms, 2x shower/WC, cable TV, free Wi-Fi and balcony awaits you.

Bright wooden furniture, linen and a combination of wooden and carpeted floor provides a comfort surrounding.

Bedclothes, dishes and towels are available and can be changed if requested.

Room/apartment features

towels available, microwave, furniture suite, carpeted bedroom, rustic furniture, toaster, dishwasher, use of washmachine, garden furniture, washing machine, dishes available, separate bedroom/s: 2, hairdryer, open plan kitchen/living room, kitchenette, refrigerators available, garden, toilet laundry, quiet room/apartment, balcony furniture, bed linen available, meadow, oven, balcony, anteroom, TV, refrigerator, open foot-end of bed, weekly cleaning, separate bedroom/living room, dish sink, kitchen utensils, kitchen and table linen, kitchen, island kitchen, cable TV, coffeemaker, WiFi, freezer compartment, kettle

Bed distribution

separate beds available, sofa

Location/room with view/apartment

detached unit

Bathroom facilities

shower, toilet

Available

Available, No arrival

Only departure

Not available
Cheapest room
Best offer for your search
---
per unit/night
from €62.00
Sicher mit SSL-Zertifikat
Info
Mo-Fr 8:00 bis 12:00 und 13:00 bis 17:00 Uhr