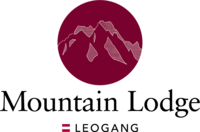 Mountain Lodge Leogang: the place to be! 
Enjoy the panoramic view of the mountains and relax in one of our four beautiful, modern apartments. We offer everything you need; a well-equipped kitchen with a large dining area, flat-screen cable TV's, free WIFI, excellent bathrooms, what more could you wish for! Bread service possible.
Whatever you like to do, there are lots of possibilities. Hiking, biking, skiing, rafting, climbing? Or relaxing and enjoying the peacefulness of the Austrian scenery on your balcony with the comforting sound of jingling cowbells in the background?
We offer four apartments; the spacious penthouse with fantastic view (4 persons), the wonderful apartment with sauna on the first floor (6 persons), and the two beautiful apartments on the ground floor (6 persons), all equipped with a south-faced balcony , terrace or garden.
The house is situated in a quiet area, but the slopes to the skilift are around the corner. You don't need your car anymore!
Restaurants, bars and ski-rentals are located within 500 metres. A grocery store can be reached within 1,2 km.
We hope to welcome you soon in one of our comfortable and luxurious apartments. Please ask for more information, prices and availability today for your holiday in ¨ The place to be¨ in the mountains.
This accommodation is a member of
---
Facilities
Facilities / Services

boot dryer
short stays welcome
garage
drying room
family friendly
use of clothes dryer
laundry facilities available
ski storeroom
pets not allowed
WiFi
lift / elevator

Distance rules

Distance rules are kept
Non-cash payment possible

Location

right on the slope
right at the cross-country ski trail
on the hiking trail
located on a hill
edge of ski run

Hygiene and disinfection

Accommodation is cleaned by professional cleaning company
Bedlinen, towels and laundry are washed according to rules of local authorities
Disinfection of often touched items and surfaces
Rooms are cleaned most thoroughly after every guest departure, in particular often touched items
Usage of cleansers that are effective against Corona Virus

Staff

Employees wear surgical masks

Conditions

• Cancellations one month in advance free,
• From 1 month to 1 week prior to arrival, 70% will be charged
• For cancellations made within 7 days of the scheduled arrival, the guest must pay 90% cancellation fee.
---
Contact & Directions
Mountain Lodge Leogang
Rain 126,
5771 Leogang AT
Arrival
Check in 4.00 p.m. / Check out 10.00 a.m.
Apartments & Prices
Please select arrival date and nights
Rooms
| | |
| --- | --- |
| Size | 95 m² |
| Occupancy | 2 - 6 adults , 0 - 4 children |
| Rooms | 4 |
| Bedrooms | 3 |

Room details

This apartment is equipped for 6 persons and is beautifully designed in combination with nice wooden accents. The large living room with much daylight has a large dining table, a comfortable sitting area with fireplace and offers direct access tot the terrace and the garden. The complete kitchen is modern and fully equipped with everything you need. In this apartment on the ground floor you have 3 bedrooms, 2 bathrooms both with shower and toilet. The Apartment is 95m2 and the terrace is 33m2. This building is located in a quiet area with a beautiful view and the ski area Leogang-Saalbach-Hinterglemm-Fieberbrunn is next to you. Ski-in and ski-out is possible because of the new Steinbergbahn (2014), this is only 50 metres away.

Room/apartment features

freezer compartment, closet, heater, dining room, terrace, TV, towels available, garden, dishes available, luxurious furnishing, garden furniture, refrigerator, meadow, dishwasher, modern furnishing, refrigerators available, separate bedroom/living room, bed linen available, kitchen, separate bedroom/s: 3, safe, WiFi

Bed distribution

double bed (1 bed/2 mattresses), sofa

Bathroom facilities

shower, toilet

Location/room with view/apartment

ground floor

Available

Available, No arrival

Only departure

Not available

| | |
| --- | --- |
| Size | 95 m² |
| Occupancy | 2 - 6 adults , 0 - 4 children |
| Rooms | 4 |
| Bedrooms | 3 |

Room details

This apartment is equipped for 6 persons and is beautifully designed in combination with nice wooden accents. The large livingroom with much daylight has a large dining table and comfortable sitting area where you can relax. You also have a terrace and a large sunny garden. The complete kitchen is modern and fully equipped with everything you need. You have 3 bedrooms, 2 bathrooms, both with shower and toilet and you also have a separate toilet. The apartment is 95m2 and the terrace in the garden is 33m2. This building is located in a quiet area with a beautiful view and the ski area Leogang-Saalbach-Hinterglemm-Fieberbrunn is next to you. Ski-in and ski-out is possible because of the new Steinbergbahn (2014), this is only 50 metres away.

Room/apartment features

heater, dishes available, towels available, bed linen available, garden, TV, meadow, WiFi, dining room, kitchen, safe, garden furniture, luxurious furnishing, closet, refrigerators available, refrigerator, separate bedroom/s: 3, cooking possibilities, separate bedroom/living room, dishwasher, coffeemaker, modern furnishing, terrace

Bed distribution

sofa, single bed, double bed (1 bed/2 mattresses)

Location/room with view/apartment

ground floor

Bathroom facilities

shower, toilet

Available

Available, No arrival

Only departure

Not available

| | |
| --- | --- |
| Size | 92 m² |
| Occupancy | 2 - 6 adults , 0 - 4 children |
| Rooms | 6 |
| Bedrooms | 3 |

Room details

This apartment (92m²) is the perfect one for your Holiday! In this beautiful building with modern design, you can enjoy your luxery stay in the Austrian mountain world. Up to 6 persons can stay in this apartment and is located on the first floor with a beautiful view. (balcony 17m² ) The beautiful design in combination with wooden accents make it complete. Tha large livingroom has a diningtable and a nice sitting area where you can relax. In this apartment you have 3 bedrooms with flat-screen and 2 bathrooms, 1 with bath. In the basemant you can use one parking place, as well as the ski room with heated boot racks and laundry room with washer and dryer.

Room/apartment features

safe, refrigerator, modern furnishing, dishwasher, closet, separate bedroom/s: 3, infrared cabin in room/apt., cooking possibilities, towels available, room/apt. larger (m²): 92, luxurious furnishing, separate bedroom/living room, oven, open plan kitchen/living room, kitchen, store room, fireplace, balcony, open foot-end of bed, WiFi, non-smoking room/apt., balcony furniture, living room, no pets allowed, freezer compartment, bed linen available, heater, TV, coffeemaker

Bathroom facilities

bathtub, bath, toilet, shower

Bed distribution

double bed (1 bed/2 mattresses)

Location/room with view/apartment

main building

Available

Available, No arrival

Only departure

Not available

| | |
| --- | --- |
| Size | 101 m² |
| Occupancy | 2 - 6 adults , 0 - 4 children |
| Rooms | 4 |
| Bedrooms | 3 |

Room details

This design apartment with sauna in combination with wood is equipped for 6 persons. The beautiful livingroom has a lovely diningtable and a sitting area where you can relax. You can also enter the balcony from the livingroom where you can enjoy the beautiful view! This apartment on the first floor has 3 bedrooms, 2 bathrooms, 1 with bath, 1 with shower and a separate toilet. All bedrooms have a flatscreen TV. You can take your rest in the sauna! This Apartment is 101m2, the balcony is 17m2. This building is located in a quiet area with a beautiful view and the ski area Leogang-Saalbach-Hinterglemm-Fieberbrunn is next to you. Ski-in and ski-out is possible because of the new Steinbergbahn (2014), this is only 50 metres away.

Room/apartment features

closet, refrigerator, cooking possibilities, refrigerators available, separate bedroom/s: 3, balcony furniture, toaster, bed linen available, open plan kitchen/living room, WiFi, modern furnishing, balcony, heater, coffeemaker, safe, towels available, balcony (in some rooms), no pets allowed, sauna, luxurious furnishing, kitchen, dishwasher

Bathroom facilities

bath, toilet, bathtub, separate toilet

Bed distribution

double bed (1 bed/2 mattresses), sofa

Available

Available, No arrival

Only departure

Not available

| | |
| --- | --- |
| Size | 90 m² |
| Occupancy | 2 - 4 adults , 0 - 2 children |
| Rooms | 3 |
| Bedrooms | 2 |

Room details

This luxury penthouse (90 m2) with its high ceilings offers a fantastic view and is equipped for 4 persons. The living room has a large dining table, a cosy sitting area with fireplace and a flatscreen tv. The large south facing balcony (21 m2) equipped with excellent furniture and 2 sunbeds, offers a panoramic view of the mountains. The penthouse has 2 bedrooms (1 with balcony) and both with flatscreen tv and wardrobes. There is a separate toilet in the hall and another bathroom with a shower and toilet. This building is located in a quiet area with a beautiful view and the ski area Leogang-Saalbach-Hinterglemm-Fieberbrunn is next to you. Ski-in and ski-out is possible because of the new Steinbergbahn (2014), this is only 50 metres away.

Room/apartment features

refrigerator, dining room, WiFi, kitchen, cooking possibilities, coffeemaker, freezer compartment, luxurious furnishing, towels available, bed linen available, closet, no pets allowed, terrace, separate bedroom/living room, heater, separate bedroom/s: 2, modern furnishing

Bathroom facilities

shower, toilet, toilet

Bed distribution

double bed (1 bed/2 mattresses), sofa

Location/room with view/apartment

loft/attic apartment

Available

Available, No arrival

Only departure

Not available
Cheapest room
Best offer for your search
---
per unit/night
from €180.00
Sicher mit SSL-Zertifikat
Info
Mo-Fr 8:00 bis 12:00 und 13:00 bis 17:00 Uhr