Matzhof
farm, farmhouse, holiday apartment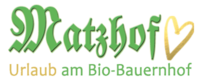 Welcome to the Matzhof! Enjoy an unforgettable vacation in our apartments that invite you to feel good. Who wants to experience true vacation feeling on a managed farm with many animals, self-produced products and newly renovated apartments with 4 flowers comfort, is in good hands on the Matzhof in Salzburg Land. The Matzhof is located in Leogang in the beautiful province of Salzburg, lies on the valley floor and consists of meadows, forest. In a comfortable 20 minutes walk you reach the center of Leogang. With 10 minutes drive (free ski bus stops in front of the house) you enter the ski circus Saalbach Hinterglemm Leogang. L-loipe, walking and hiking trails, bike path!
This accommodation is a member of
Alpine Gastgeber Salzburg
Holidays on the farm
Saalfelden Leogang Card
---
Facilities
Sports / Leisure time

garden / meadow
Trampolin
football
sunbathing lawn
lounge chairs free of charge
table tennis
horse-drawn sleigh rides

Facilities / Services

ski storeroom
all -year operation
barbecue area (with benches)
wake-up service
animals on farm year-round
drying room
laundry service
laundry facilities available
covered parking for motorcycles
non-smoking house
car parking lot
terrace
garden barbecue
bread/rolls service
family friendly
storage space for surfboards
garden furniture
parking space for bicycles
internet - e-mail available
herb garden
farm produce

Children

highchair
crib/baby bed
pony riding

Location

right at the ski-bus/ hiking-bus/ bus stop
close to forest
right on the bike path
right at the cross-country ski trail
quiet location
meadowlands
mountain location

Conditions

The farm Matzhof with 3 beautiful apartments is the perfect home for skiers, cross-country skiers, cyclists, biker guided tours, hiking directly from our farm. Family holidays!
---
Contact & Directions
Matzhof
Otting 6,
5771 Leogang AT
Arrival
Holidays on the farm - there is always something on offer! • Three very spacious exclusive newly built apartments • - Apartment Alpenrose - Apartment Edelweiss - Apartment Enzian can be individually combined.
Apartments & Prices
Please select arrival date and nights
Rooms
| | |
| --- | --- |
| Size | 100 m² |
| Occupancy | 2 - 6 adults , 0 - 3 children |
| Rooms | 1 |
| Bedrooms | 1 |

Room details

Alpenrose

Großzügige Ferienwohnung mit Wohlfühlambiente Zwei getrennte Schlafzimmer, komplett eingerichteter Küche mit Kaffeemaschine und Wasserkocher, Geschirrspüler und E-Herd mit Backofen, Mikrowelle gemütliche Essecke, Wohnbereich mit Wohnlandschaft, TV, Radio, Telefon, gratis WLAN, Dusche/WC, Föhn, Flur mit Garderobe und Balkon mit Ausicht auf die umliegenden Steinberge sind bei uns Standard.

Room/apartment features

refrigerators available, microwave, dishes available, TV, island kitchen, balcony (in some rooms), vent hood, garden, bed linen (non-allergenic), hairdryer, kitchen, balcony, loggia, toaster, balcony furniture, open foot-end of bed, separate living room, radio, meadow, towels available, electric stove, terrace (some rooms), rustic furniture, coffeemaker, refrigerator, kettle, heater, non-smoking room/apt., oven, pets permitted on request, dishwasher, freezer compartment, furniture suite, central heating, highchair, WiFi, dish sink, kitchen utensils, bed linen available, CD player, internet connection available, room/apt. (non-allergic), garden furniture, cable TV, good as new room/apt., anteroom, use of washmachine, terrace, separate bedroom/living room, radio alarm, kitchen and table linen, baby change pad, separate kitchen

Bathroom facilities

separate toilet, toilet, shower

Bed distribution

double sofa bed, couch, cot, double bed (1 bed/2 mattresses), separate beds

Available

Available, No arrival

Only departure

Not available

| | |
| --- | --- |
| Size | 110 m² |
| Occupancy | 3 - 7 adults , 0 - 4 children |
| Rooms | 1 |
| Bedrooms | 1 |

Room details

Enzian

Großzügige Ferienwohnung mit Wohlfühlambiente Drei getrennte Schlafzimmer, komplett eingerichteter Küche mit Kaffeemaschine und Wasserkocher, Geschirrspüler und E-Herd mit Backofen, Mikrowelle gemütliche Essecke, TV, Radio, Telefon, gratis WLAN, Dusche/WC, Föhn, Flur mit Garderobe und Balkon mit Ausicht auf die umliegenden Steinberge sind bei uns Standard.

Room/apartment features

hairdryer, low-noise room/apart., bed linen (non-allergenic), TV, vent hood, separate bedroom/living room, coffeemaker, garden furniture, room/apt. larger (m²): 1, balcony, island kitchen, microwave, rustic furniture, bed linen available, kitchen, kitchen and table linen, room/apt. (non-allergic), refrigerators available, kettle, cable TV, dishwasher, non-smoking room/apt., electric stove, dish sink, furniture suite, dishes available, radio, baby change pad, terrace

Bed distribution

cot, couch

Bathroom facilities

separate toilet

Available

Available, No arrival

Only departure

Not available

| | |
| --- | --- |
| Size | 120 m² |
| Occupancy | 2 - 8 adults , 0 - 4 children |
| Rooms | 4 |
| Bedrooms | 3 |

Room details

Alpenrose

Großzügige Ferienwohnung mit Wohlfühlambiente Drei getrennte Schlafzimmer, komplett eingerichteter Küche mit Kaffeemaschine und Wasserkocher, Geschirrspüler und E-Herd mit Backofen, Mikrowelle gemütliche Essecke, Couch, TV, Radio, Telefon, gratis WLAN, Dusche/WC, Föhn, Flur mit Garderobe und Balkon mit Ausicht auf die umliegenden Steinberge sind bei uns Standard.

Room/apartment features

open plan kitchen/living room, kettle, furniture suite, kitchen, balcony, dishes available, terrace, towels available, WiFi, cable TV, separate bedroom/s: 3, bed linen available, kitchen and table linen, central heating, use of washmachine, good as new room/apt., modern furnishing, vent hood, refrigerator, radio alarm, meadow, hairdryer, refrigerators available, anteroom, coffeemaker, balcony furniture, garden, microwave, TV, kitchen utensils, no carpet, highchair, pets permitted on request, heater, dish sink, garden furniture, terrace (some rooms), freezer compartment, dishwasher, open foot-end of bed, oven, quiet room/apartment

Bathroom facilities

shower, toilet, toilet, running hot/cold water

Bed distribution

pullout couch max. pers.: 2

Available

Available, No arrival

Only departure

Not available
Cheapest room
Best offer for your search
---
per person/night
from €27.00
Sicher mit SSL-Zertifikat
Info
Mo-Fr 8:00 bis 12:00 und 13:00 bis 17:00 Uhr