Klampfererhof
farm, farmhouse, holiday apartment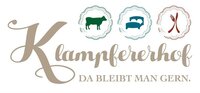 Our new farmhouse, scheduled to be completed at the beginning of the 2016-17 winter season, is located in Saalfelden in a picturesque setting above Lake Ritzensee. The setting of the 12 hectare farm in the midst of the local recreation area offers a gorgeous panorama view to the mountain ridges of the Steinernes Meer and the Leoganger Steinberge.Comfortable and relaxed get-togethers are guaranteed!On our organic farm we have beef cattle, horses, ponies and laying hens. Snow hiking trails, cross-country skiing trails, sledding, and ice skating on the lake are righ at our doorstep.Children are most welcome and can enjoy the winter to the fullest. Sleighing, petting ponies or simply building snowmen will keep them busy.
This accommodation is a member of
Best Price Garantie
Saalfelden Leogang Card
---
Facilities
Children

Kinderschaukel
pony riding
playground
crib/baby bed
facilities for children
indoor games
sandboxes
children's bed
petting zoo
child-friendly
children's menu
baby change room
highchair
child reduction

Facilities / Services

non-smoking house
kitchen for guests
storage space for surfboards
laundry facilities available
breakfast service
bread/rolls service
restaurant
short stays welcome
sundeck
family friendly
drying room
free use of internet
common garden
lake terrace
garden furniture
animals on farm year-round
guest refrigerator
pets welcome
restaurant smoking/non-smoking
WiFi
guest garden
bar
lake view
panorama restaurant
terrace
early breakfast service
car parking lot
café
disabled parking
non-smoking area
TV room
herb garden
multilingual menu
boot dryer
ski storeroom
farm produce
disabled washroom
parking space for bicycles
breakfast room
lift / elevator
disabled accessible
gay-friendly
all -year operation
internet - e-mail available
terrace/garden restaurant

Location

right at the cross-country ski trail
right on the bike path
quiet location
meadowlands
right on the lake
on the lake
lake - distance (m): 50
mountain location
on the hiking trail
close to forest
outskirts of town
located on a hill

Sports / Leisure time

horse-drawn carriage
tobogganing
hunting
garden / meadow
lounge chairs free of charge
sunbathing lawn
horse-drawn sleigh rides

Meals

afternoon snack
à la carte restaurant
organic cuisine
à la carte menu
breakfast bookable
vegetarian food
breakfast on request
home-style cooking

Conditions

Quaint farm, situated on a hill next to a mountain lake. We offer new built apartements and rooms with idyllic few. Tenderly funished, balkony, small restaurant, garden, playground, cross country ski trak nearby.
---
Contact & Directions
Klampfererhof
Schmalenbergham 3,
5760 Saalfelden am Steinernen Meer AT
Arrival
Check in: 14:00 pm/ Check out: 10 am
Rooms/Apartments & Prices
Please select arrival date and nights
Rooms
| | |
| --- | --- |
| Size | 40 m² |
| Occupancy | 1 - 5 adults , 0 - 4 children |
| Rooms | 3 |
| Bedrooms | 1 |

Room details

40m², Wonderfull view to the lake and mountains. Fully equipped combinated kitchen/living room, couch - bunk bed comination, TV, radio, bedroom, shower/WC, balcony. You can use our nice garden for sun bathes. We offer a farm tavern with a snug terrace, where you can enjoy a breakfast, coffee, a drink or self made organic dishes. Your kids will love the playground and the farm animanls: cows, horses, ponies, chicken, cats and dog. Cross counrty trak, ski regions, hiking trails, golf courts, and many more activities are located nearby.

The new apartments are situated at the first floor of the farmhouse. In the basement we offer a drying room for your ski gear. Both are easy to reach via elevator. All apartments are warmly furnished and include fresh bed linen and towels, TV, hairdryer, and internet WLAN.1 family apartment for 4 to 5 people (approx. 40 m²) Apartment includes a fully furnished kitchen, dining area for five, adaptable couch-bed combinations*, one bedroom with a double bed, one bathroom with shower and a balcony. *Flexinno-System (see photos)

Room/apartment features

oven, island kitchen, cable TV, family room/apt., refrigerator, open foot-end of bed, dishwasher, bed linen available, garden, electric stove, separate bedroom/living room, garden furniture, WiFi, TV, radio, coffeemaker, kitchen and table linen, quiet room/apartment, refrigerators available, kitchen, kitchen utensils, good as new room/apt., balcony furniture, furniture suite, baby change pad, highchair, freezer compartment, balcony, heater, non-smoking room/apt., towels available, open plan kitchen/living room, vent hood, meadow, dish sink, terrace, internet connection available, dishes available, hairdryer, central heating, closet, cooking possibilities, microwave

Bathroom facilities

bath, bath, toilet, running hot/cold water, shower

Bed distribution

sofa, double sofa bed, bunk bed, cot, French bed

Available

Available, No arrival

Only departure

Not available

| | |
| --- | --- |
| Size | 70 m² |
| Occupancy | 2 - 8 adults , 0 - 6 children |
| Rooms | 5 |
| Bedrooms | 2 |

Room details

60m², Wonderfull view to the lake and mountains. Fully equipped combinated kitchen/living room, couch - bunk bed comination, TV, radio, 2 bedrooms, 2 bathrooms with shower/WC, 2 balconies. You can use our nice garden for sun bathes. We offer a farm tavern with a snug terrace, where you can enjoy a breakfast, coffee, a drink or self made organic dishes. Your kids will love the playground and the farm animanls: cows, horses, ponies, chicken, cats and dog. Cross counrty trak, ski regions, hiking trails, golf courts, and many more activities are located nearby. www.klampfererhof.at

The new apartments are situated at the first floor of the farmhouse. In the basement we offer a drying room for your ski gear. Both are easy to reach via elevator. All apartments are warmly furnished and include fresh bed linen and towels, TV, hairdryer, and internet WLAN.1 family apartment for 6 to 8 persons (approx. 72 m²) Apartment includes a fully furnished kitchen, dining area for eight, adaptable couch-bed combinations*, two bedrooms with double beds, two bathrooms with showers and two balconies.*Flexinno-System (see photos)

Room/apartment features

microwave, terrace, room/apt. with disabled access, highchair, desk, refrigerator, electric stove, central heating, bed linen available, furniture suite, quiet room/apartment, coffeemaker, freezer compartment, hairdryer, balcony, closet, kettle, kitchen, dishwasher, vent hood, towels available, TV, radio, family room/apt., internet connection available, kitchen and table linen, island kitchen, good as new room/apt., open plan kitchen/living room, heater, baby change pad, refrigerators available, separate bedroom/living room, dish sink, dishes available, balcony furniture, garden furniture, garden, non-smoking room/apt., WiFi, open foot-end of bed

Bathroom facilities

running hot/cold water, bath, toilet, bath, shower, shower, toilet

Bed distribution

French bed, cot, bunk bed, sofa, double sofa bed, couch

Available

Available, No arrival

Only departure

Not available

| | |
| --- | --- |
| Size | 20 m² |
| Occupancy | 1 - 3 adults , 0 - 2 children |
| Rooms | 1 |
| Bedrooms | 1 |

Room details

Wonderfull view to the lake and mountains. TV, radio, bathroom with shower/WC, balcony. You can use our nice garden for sun bathes. We offer a farm tavern with a snug terrace, where you can enjoy a breakfast, coffee, a drink or self made organic dishes. Your kids will love the playground and the farm animanls: cows, horses, ponies, chicken, cats and dog. Cross counrty trak, ski regions, hiking trails, golf courts, and many more activities are located nearby. www.klampfererhof.at

The new rooms are situated at the first floor of the farmhouse. In the basement we offer a drying room for your ski gear. Both are easy to reach via elevator. All rooms are warmly furnished and include fresh bed linen and towels, TV, hairdryer, and internet WLAN. Room für up to 3 persons with a double bed and extra bed funktion*, one bathroom with shower and a balcony. *Flexinno-System (see photos)

Room/apartment features

family room/apt., internet connection available, TV, desk, towels available, meadow, cable TV, closet, open foot-end of bed, balcony, non-smoking room/apt., furniture suite, WiFi, room/apt. with disabled access, terrace, garden, pets permitted on request, hairdryer

Bathroom facilities

shower, bath, shower, toilet, bath, toilet

Bed distribution

cot, French bed

Available

Available, No arrival

Only departure

Not available
Cheapest room
Best offer for your search
---
per person/night
from €43.00
Sicher mit SSL-Zertifikat
Info
Mo-Fr 8:00 bis 12:00 und 13:00 bis 17:00 Uhr