Hotel und Spa am See Ritzenhof

S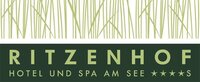 Surrounded by impressive mountain scenery of the Steinernes Meer, this modern spa hotel looks directly out over the Ritzensee lake.
In winter the lake often freezes over, making it ideal for crisp walks and even ice skating. A shuttle bus drops skiers off at the slopes in Leogang-Saalbach/Hinterglemm-Fieberbrunn or Maria Alm Ski amadé.

To really achieve that feel-good vibe in the Ritzenhof hotel there's a modern, but natural interior design in clean lines, oiled wood and with bright accent colors. Floor-to-ceiling windows provide a light feel and stunning views of the lake or the mountains.

The extensive spa area offers full body treatments, massages, different saunas, pool and a family sauna.
Already awarded several times – Ritzenhof is the perfect place to find your inner calmness, energy and harmony.
In summer you may benefit from the private lawn for sunbathing. The wonderful mountains of the area invite you for hiking tours. Whereas the bike park in the nearby Leogang is the place to be for all downhillers and fun-bikers, you can also choose from loads of trails and cycle paths in the valleys and on the mountains.
This accommodation is a member of
Best Price Garantie
Congress Hotels Saalfelden Leogang
Golf Hotels Saalfelden Leogang
Kinderfreundliche Hotels Saalfelden Leogang
Bike Hotels Saalfelden Leogang
Wellness & Spa Hotels Saalfelden Leogang
Saalfelden Leogang Card
---
Facilities
Facilities / Services

restaurant
non-smoking area
flat-rate offer
ski storeroom
family friendly
pets welcome
non-smoking house
common room
all -year operation
wake-up service
boot dryer
terrace
transfer service
laundry service
farm produce
WiFi
gay-friendly
early breakfast service
covered parking for motorcycles
lift / elevator
bar
office service
breakfast service
internet - e-mail available
parking space for bicycles
car parking lot

Meetings / Conferences

fax machine
phone system
public address system
writing desk
digital camera
screen
flipchart
video recorder
video projector
computer system
video system
slide projector

Wellness

yoga
aerobics room
special massages
massage
infrared cabin
tanning booth
body treatment
sauna
relaxation room
indoor swimming pool
aromatic steam sauna
beauty treatment
sauna / steamroom
wellness area

Sports / Leisure time

ice skating
Bike rental
horse-drawn sleigh rides
fitness room
golf
horse-drawn carriage
swimming pool
lounge chairs free of charge
hikes/guided hiking tours
sunbathing lawn
fitness program
garden / meadow
swimming opportunity
own beach
Inline Skating Parcours
water aerobics
nordic walking
organized activities/guest services/house program

Children

child-friendly
playground
children's playroom
baby monitor on request
highchair
babysitter on request
children's play area
crib/baby bed
baby change room
childcare on request
facilities for children

Location

right at the cross-country ski trail
lake - distance (m): 20
on the lake
near the forest
quiet location
right at the ski-bus/ hiking-bus/ bus stop
right on the lake
located on a hill
central location
right on the bike path

Courses / Instructions

cross-country skiing course
nordic walking lessons
golf lessons

Meals

daily salad buffet
late riser's breakfast
à la carte restaurant
breakfast buffet

Groups

bus parking space
groups possible with max. pers.: 50

Rental

ice skate rental
Nordic walking poles
---
Contact & Directions
Hotel und Spa am See Ritzenhof

S
Ritzenseestraße 33,
5760 Saalfelden AT
Arrival
The rooms are available from 3 pm at the latest, checkout until 11 am. For an extra charge you can expand your check-out.
Rooms & Prices
Please select arrival date and nights
Rooms
| | |
| --- | --- |
| Size | 40 m² |
| Occupancy | 1 - 2 adults |
| Rooms | 1 |
| Bedrooms | 1 |

Room details

| 40 sqm | This double room is the perfect retreat for couples. It is bright, generous, modern and fresh. Warm colours, premium fabrics and fine oak make up the design elements.
The generously sized balcony with seating offers the perfect setting to enjoy a great view of Lake Ritzensee, the surrounding mountains and the evening sunshine.

Room/apartment features

quiet room/apartment, towels available, balcony furniture, internet connection available, telephone, radio, modern furnishing, furniture suite, radio alarm, balcony, bed linen (non-allergenic), TV, carpeted bedroom, closet, non-smoking room/apt., bed linen available, bathrobe, safe, open foot-end of bed, cable TV, alarm clock, WiFi

Available

Available, No arrival

Only departure

Not available

| | |
| --- | --- |
| Size | 40 m² |
| Occupancy | 1 - 2 adults |
| Rooms | 1 |
| Bedrooms | 1 |

Room details

| 40 sqm | This double room is the perfect retreat for couples. It is bright, generous, modern and fresh. Warm colours, premium fabrics and fine oak make up the design elements.
The generously sized balcony with seating offers the perfect setting to enjoy a great view of Lake Ritzensee, the surrounding mountains and the evening sunshine.

Room/apartment features

quiet room/apartment, towels available, balcony furniture, internet connection available, telephone, radio, modern furnishing, furniture suite, radio alarm, balcony, bed linen (non-allergenic), TV, carpeted bedroom, closet, non-smoking room/apt., bed linen available, bathrobe, safe, open foot-end of bed, cable TV, alarm clock, WiFi

Available

Available, No arrival

Only departure

Not available

| | |
| --- | --- |
| Size | 33 m² |
| Occupancy | 1 - 2 adults |
| Rooms | 1 |
| Bedrooms | 1 |

Room details

| 33 sqm | This double room can be described as open, modern and fresh. Warm colours, premium fabrics and fine oak make up the design elements.
The cosy sofa is great for reading, relaxing or simply taking a rest. It can also be used as an extra single bed. The loggia provides a view of the imposing Steinernes Meer Mountains.
Popular also with families and friends!

Bathroom facilities

shower, toilet, shower, running hot/cold water, bath, toilet, separate toilet, bath

Room/apartment features

cable TV, toiletries, TV, heater, bathrobe, closet, towels available, telephone, balcony furniture, WiFi, loggia, balcony (in some rooms), open foot-end of bed, radio, non-smoking room/apt., carpeted bedroom, room/apt. larger (m²): 33, alarm clock, bed linen available, safe, bed linen (non-allergenic), internet connection available

Bed distribution

double bed (1 bed/2 mattrasses), sofa

Available

Available, No arrival

Only departure

Not available

| | |
| --- | --- |
| Size | 33 m² |
| Occupancy | 1 - 2 adults |
| Rooms | 1 |
| Bedrooms | 1 |

Room details

| 33 sqm | This double room can be described as open, modern and fresh. Warm colours, premium fabrics and fine oak make up the design elements.
The cosy sofa is great for reading, relaxing or simply taking a rest. It can also be used as an extra single bed. The loggia provides a view of the imposing Steinernes Meer Mountains.
Popular also with families and friends!

Bathroom facilities

shower, toilet, shower, running hot/cold water, bath, toilet, separate toilet, bath

Room/apartment features

cable TV, toiletries, TV, heater, bathrobe, closet, towels available, telephone, balcony furniture, WiFi, loggia, balcony (in some rooms), open foot-end of bed, radio, non-smoking room/apt., carpeted bedroom, room/apt. larger (m²): 33, alarm clock, bed linen available, safe, bed linen (non-allergenic), internet connection available

Bed distribution

double bed (1 bed/2 mattrasses), sofa

Available

Available, No arrival

Only departure

Not available

| | |
| --- | --- |
| Size | 27 m² |
| Occupancy | 1 - 2 adults |
| Rooms | 1 |
| Bedrooms | 1 |

Room details

| 27 sqm | Bright double room in the Haus am Schloss that captures the evening sun and overlooks Schloss Ritzen with a side view of the lake. Stylish, modern furnishings in exquisite, warm colours. A French balcony completes the room, making it the ideal accommodation for early risers.

Room/apartment features

telephone, TV, modern furnishing, WiFi, bed linen available, closet, safe, alarm clock, bathrobe, internet connection available, radio, non-smoking room/apt., desk, radio alarm, cable TV, carpeted bedroom

Available

Available, No arrival

Only departure

Not available

| | |
| --- | --- |
| Size | 27 m² |
| Occupancy | 1 - 2 adults |
| Rooms | 1 |
| Bedrooms | 1 |

Room details

| 27 sqm | Bright double room in the Haus am Schloss that captures the evening sun and overlooks Schloss Ritzen with a side view of the lake. Stylish, modern furnishings in exquisite, warm colours. A French balcony completes the room, making it the ideal accommodation for early risers.

Room/apartment features

telephone, TV, modern furnishing, WiFi, bed linen available, closet, safe, alarm clock, bathrobe, internet connection available, radio, non-smoking room/apt., desk, radio alarm, cable TV, carpeted bedroom

Available

Available, No arrival

Only departure

Not available

| | |
| --- | --- |
| Size | 22 m² |
| Occupancy | 1 - 2 adults |
| Rooms | 1 |
| Bedrooms | 1 |

Room details

| 22 sqm | This great-value room category in the Haus am Schloss is simply furnished in light cherrywood and refreshing shades of green. A balcony or French balcony adds the finishing touch.

Room/apartment features

desk, safe, cable TV, hairdryer, closet, balcony, bed linen (non-allergenic), bed linen available, open foot-end of bed, pets permitted on request, towels available, internet connection available, WiFi, carpeted bedroom, telephone, alarm clock, bathrobe, TV, balcony furniture

Available

Available, No arrival

Only departure

Not available

| | |
| --- | --- |
| Size | 22 m² |
| Occupancy | 1 - 2 adults |
| Rooms | 1 |
| Bedrooms | 1 |

Room details

| 22 sqm | This great-value room category in the Haus am Schloss is simply furnished in light cherrywood and refreshing shades of green. A balcony or French balcony adds the finishing touch.

Room/apartment features

desk, safe, cable TV, hairdryer, closet, balcony, bed linen (non-allergenic), bed linen available, open foot-end of bed, pets permitted on request, towels available, internet connection available, WiFi, carpeted bedroom, telephone, alarm clock, bathrobe, TV, balcony furniture

Available

Available, No arrival

Only departure

Not available
Cheapest room
Best offer for your search
---
per unit/night
from €240.00
Sicher mit SSL-Zertifikat
Info
Mo-Fr 8:00 bis 12:00 und 13:00 bis 17:00 Uhr