Hinterburghof - Fam. Krahbichler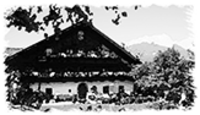 The Hinterburghof, a quaint organic farm with its own swimming pond, sunny and peaceful at 800 m above sea level, at the foot of the Biberg in Saalfelden, invites active holidaymakers and guests in search of pure relaxation to feel on top of the world.
We offer you rooms with every comfort including shower/WC and breakfast buffet, or holiday apartments with breakfast-roll delivery service. Countless opportunities await you in summer as well as winter.
registration nr: 50619-000274-2020 und 50619-000571-2020
This accommodation is a member of
Holidays on the farm
Saalfelden Leogang Card
---
Facilities
Sports / Leisure time

natural pond
garden / meadow
lounge chairs free of charge
bathing pond
tobogganing
sunbathing lawn
table tennis

Facilities / Services

covered parking for cars
WiFi
covered parking for motorcycles
family friendly
library
barbecue evening
common room
non-smoking area
garage
drying room
terrace
single-family house
herb garden
farm produce
garden furniture
non-smoking house
boot dryer
guest refrigerator
own garden
parking space for bicycles
tiled stove
bicycle parking space
garden barbecue
barbecue area (with benches)
garden house
ski storeroom
breakfast room
pets not allowed
flat-rate offer

Location

right on the bike path
right on the lake
private setting
on the hiking trail
central location
outskirts of town
quiet location
meadowlands

Children

playground
crib/baby bed
highchair
sandboxes
baby monitor on request
petting zoo

Rental

Nordic walking poles
snowshoes

Conditions

Included services:

● carport - 1 free roofed parking space
● Saalfelden Leogang Card (NEU! also in winter)
● 50 % reduction at winter toboggan run
● breakfast buffet (rooms)
● breakfast-roll delivery service (apartments)
---
Contact & Directions
Hinterburghof - Fam. Krahbichler
Kehlbach 3,
5760 Saalfelden AT
Arrival
Check in: have a look on our website

arrival:
from Saalfelden:
straight ahead at the 2 circles in direction to Zell am See, after 2 km turn right into district Kehlbach, follow the signs "Hinterburghof"
Rooms/Apartments & Prices
Please select arrival date and nights
Rooms
| | |
| --- | --- |
| Size | 25 m² |
| Occupancy | 2 - 3 adults , 0 - 1 children |
| Rooms | 1 |
| Bedrooms | 1 |

Room details

Wir können Ihnen 2 Dreibettzimmer, davon 1x mit, und 1x ohne Balkon anbieten, alle Zimmer mit geölten Holzböden und Vollholzmöbeln eingerichtet, natürlich mit DU/WC und Kabel TV. Spüren Sie die Kraft des Holzes - Atmosphäre einfach zum Wohlfühlen.

Ein sehr ruhiges, gemütliches Doppelzimmer mit gemütlicher Sitzbank, geölten Holzböden und Vollholzmöbeln eingerichtet, natürlich mit DU/WC und Kabel TV. Spüren Sie die Kraft des Holzes - Atmosphäre einfach zum Wohlfühlen. Jedes Zimmer ist bei uns einem Thema zum Hof bezogen, gewidmet und dieses hier, das Bergsteigerzimmer, mit Bildern und Lektüre zum Bergsteigen, da unser am Hof inmitten einer herrlichen Berglandschaft, von den Grasbergen über die Steinberge bis zu den Hochalpen für jeden etwas bietet. Da dies auch das Hobby des Bauern ist, berät er Sie gerne bei Ihren Touren. Tauchen Sie ein in die Welt der Berge mit Atem beraubender Freiheit auf den Gipfeln.

Room/apartment features

rustic furniture, WiFi, towels available, no carpet, open foot-end of bed, balcony (in some rooms), no pets allowed, low-noise room/apart., quiet room/apartment, central heating, desk, closet, cable TV, TV, non-smoking room/apt., furniture suite

Bed distribution

double bed (1 bed/2 mattresses), single bed

Bathroom facilities

shower, toilet

Available

Available, No arrival

Only departure

Not available

| | |
| --- | --- |
| Size | 20 m² |
| Occupancy | 1 - 2 adults , 0 - 1 children |
| Rooms | 1 |
| Bedrooms | 1 |

Room details

Wir können Ihnen 3 Doppelzimmer, davon 2x mit, und 1x ohne Balkon anbieten, alle Zimmer mit geölten Holzböden und Vollholzmöbeln eingerichtet, natürlich mit DU/WC und Kabel TV. Spüren Sie die Kraft des Holzes - Atmosphäre einfach zum Wohlfühlen.

Ein sehr ruhiges, gemütliches Doppelzimmer mit geölten Holzböden und Vollholzmöbeln eingerichtet, natürlich mit DU/WC und Kabel TV. Spüren Sie die Kraft des Holzes - Atmosphäre einfach zum Wohlfühlen. Jedes Zimmer ist bei uns einem Thema zum Hof bezogen, gewidmet und dieses hier, das Bikernest, mit Bildern und Lektüre den Liebhabern von Motorrädern. Natürlich werden sich auch nicht Motrorradfahrer hier sehr Wohl fühlen.

Room/apartment features

no pets allowed, central heating, rustic furniture, TV, open foot-end of bed, quiet room/apartment, no carpet, cable TV, non-smoking room/apt., WiFi

Bathroom facilities

shower, toilet

Bed distribution

double bed (1 bed/2 mattresses)

Available

Available, No arrival

Only departure

Not available

| | |
| --- | --- |
| Size | 20 m² |
| Occupancy | 2 adult |
| Rooms | 1 |
| Bedrooms | 1 |

Room details

Wir können Ihnen 3 Doppelzimmer, davon 2x mit, und 1x ohne Balkon anbieten, alle Zimmer mit geölten Holzböden und Vollholzmöbeln eingerichtet, natürlich mit DU/WC und Kabel TV. Spüren Sie die Kraft des Holzes - Atmosphäre einfach zum Wohlfühlen.

Ein sehr ruhiges, gemütliches Doppelzimmer mit Balkon, geölten Holzböden und Vollholzmöbeln eingerichtet, natürlich mit DU/WC und Kabel TV. Spüren Sie die Kraft des Holzes - Atmosphäre einfach zum Wohlfühlen. Jedes Zimmer ist bei uns einem Thema zum Hof bezogen, gewidmet und dieses hier, das Schützenzimmer, mit Bildern und Lektüre zu Ehren der Bauernschützen um 1809. Erleben sie hier einen Teil der historischen Geschichte der Region.

Room/apartment features

open foot-end of bed, non-smoking room/apt., no pets allowed, furniture suite, cable TV, balcony, central heating, no carpet, quiet room/apartment, WiFi, TV, rustic furniture

Bed distribution

double bed (1 bed/2 mattresses)

Bathroom facilities

shower, toilet

Available

Available, No arrival

Only departure

Not available

| | |
| --- | --- |
| Size | 25 m² |
| Occupancy | 1 - 2 adults , 0 - 1 children |
| Rooms | 1 |
| Bedrooms | 1 |

Room details

Wir können Ihnen 3 Doppelzimmer, davon 2x mit, und 1x ohne Balkon anbieten, alle Zimmer mit geölten Holzböden und Vollholzmöbeln eingerichtet, natürlich mit DU/WC und Kabel TV. Spüren Sie die Kraft des Holzes - Atmosphäre einfach zum Wohlfühlen.

Ein sehr ruhiges, gemütliches Doppelzimmer mit Balkon, gemütlicher Couch, geölten Holzböden und Vollholzmöbeln eingerichtet, natürlich mit DU/WC und Kabel TV. Spüren Sie die Kraft des Holzes - Atmosphäre einfach zum Wohlfühlen. Jedes Zimmer ist bei uns einem Thema zum Hof bezogen, gewidmet und dieses hier, die Schnapsbrennerei, mit Bildern und Lektüre zum Schnapsbrennen, da wir am Hof eine nach wie vor gültige Brennkonzession der Kaiserin Maria Theresia (großes Brennrecht)besitzen und natürlich auch verwerten. Tauchen Sie ein in die Welt des Genusses.

Room/apartment features

rustic furniture, balcony, cable TV, central heating, open foot-end of bed, WiFi, TV, furniture suite, low-noise room/apart., quiet room/apartment, non-smoking room/apt., no pets allowed, no carpet

Bed distribution

sofa, double bed (1 bed/2 mattresses)

Bathroom facilities

shower, toilet

Available

Available, No arrival

Only departure

Not available

| | |
| --- | --- |
| Size | 45 m² |
| Occupancy | 2 - 3 adults , 0 - 2 children |
| Rooms | 1 |
| Bedrooms | 1 |

Room details

1 Ferienwohnung für 2 bis max 4 Personen anbieten, alle Zimmer mit Vollholzmöbeln, und geölten Holzböden eingerichtet, natürlich mit DU/WC, Kabel TV sowie Kücheneinrichtung. Spüren Sie die Kraft des Holzes - Atmosphäre einfach zum Wohlfühlen.

"Die Heutenne", eine Ferienwohnung für 2 bis 3 Personen anbieten, alle Zimmer mit Vollholzmöbeln, und geölten Holzböden eingerichtet, natürlich mit DU/WC, Kabel TV sowie Kücheneinrichtung. Spüren Sie die Kraft des Holzes - Atmosphäre einfach zum Wohlfühlen. Jede Ferienwohnung am Hinterburghof hat ein besonderes Thema, entsprechend zum Hof passend !

Room/apartment features

cable TV, highchair, furniture suite, dishes available, rustic furniture, island kitchen, refrigerator, coffeemaker, family room/apt., kitchen and table linen, non-smoking room/apt., separate bedroom/s: 1, no pets allowed, bed linen available, combined bedroom/living room, no carpet, towels available, desk, vent hood, quiet room/apartment, TV, closet, low-noise room/apart., dish sink

Bed distribution

double bed (1 bed/2 mattresses), pullout couch max. pers.: 2

Bathroom facilities

shower, separate toilet

Available

Available, No arrival

Only departure

Not available

| | |
| --- | --- |
| Size | 60 m² |
| Occupancy | 2 - 4 adults , 1 - 3 children |
| Rooms | 4 |
| Bedrooms | 2 |

Room details

2 Ferienwohnungen für 2 bis max 5 Personen, 1x mit, 1x ohne Balkon anbieten, alle Zimmer mit Vollholzmöbeln eingerichtet, natürlich mit DU/WC, Kabel TV sowie jeweils extra Küche. Spüren Sie die Kraft des Holzes - Atmosphäre einfach zum Wohlfühlen

!"Der Kräutergarten", eine Ferienwohnung für 2 bis max 5 Personen, mit Balkon, Parkett- und Teppichböden, 2 Schlafzimmer, alle Zimmer mit Vollholzmöbeln eingerichtet, natürlich mit DU/WC, Kabel TV sowie jeweils extra Küche (sieht man auf den Bildern) Spüren Sie die Kraft des Holzes - Atmosphäre einfach zum Wohlfühlen. Jede Ferienwohnung am Hinterburghof hat ein spezielles Thema, entsprechend zum Hof passend.

Room/apartment features

desk, cable TV, quiet room/apartment, towels available, coffeemaker, balcony, kitchen and table linen, family room/apt., central heating, combined bedroom/living room, separate bedroom/s: 2, bed linen available, electric stove, TV, rustic furniture, closet, separate bedroom/living room, no pets allowed, open foot-end of bed, carpeted bedroom, refrigerator, separate kitchen, non-smoking room/apt., freezer compartment, dish sink, low-noise room/apart., highchair, dishes available, balcony furniture, furniture suite, oven, vent hood

Bed distribution

pullout couch max. pers.: 2, double bed (1 bed/2 mattresses)

Bathroom facilities

shower, toilet

Available

Available, No arrival

Only departure

Not available

| | |
| --- | --- |
| Size | 60 m² |
| Occupancy | 2 - 4 adults , 1 - 3 children |
| Rooms | 4 |
| Bedrooms | 2 |

Room details

2 Ferienwohnungen für 2 bis max 5 Personen, 1x mit, 1x ohne Balkon anbieten, alle Zimmer mit Vollholzmöbeln eingerichtet, natürlich mit DU/WC, Kabel TV sowie jeweils extra Küche. Spüren Sie die Kraft des Holzes - Atmosphäre einfach zum Wohlfühlen

"Die Waldstimmung", eine Ferienwohnung für 2 bis max 5 Personen, Parkett- und Teppichböden, 2 Schlafzimmer, alle Zimmer mit Vollholzmöbeln eingerichtet, natürlich mit DU/WC, Kabel TV sowie jeweils extra Küche (sieht man auf den Bildern) Spüren Sie die Kraft des Holzes - Atmosphäre einfach zum Wohlfühlen. Jede Ferienwohnung am Hinterburghof hat ein spezielles Thema, entsprechend zum Hof passend.

Room/apartment features

family room/apt., separate kitchen, towels available, quiet room/apartment, open foot-end of bed, kitchen, separate bedroom/s: 2, highchair, closet, rustic furniture, cable TV, low-noise room/apart., electric stove, refrigerator, non-smoking room/apt., desk, oven, kitchen and table linen, central heating, freezer compartment, WiFi, dishes available, separate bedroom/living room, vent hood, TV, bed linen available, carpeted bedroom, dish sink, furniture suite, coffeemaker, no pets allowed

Bed distribution

double bed (1 bed/2 mattresses), pullout couch max. pers.: 2

Bathroom facilities

shower, toilet

Available

Available, No arrival

Only departure

Not available
Cheapest room
Best offer for your search
---
per person/night
from €34.00
Sicher mit SSL-Zertifikat
Info
Mo-Fr 8:00 bis 12:00 und 13:00 bis 17:00 Uhr