More
shopping
Shopping in Saalfelden and the traditional village of Leogang
Saalfelden is rightly seen as a shopping town: as the third-largest place in the state of Salzburg, it features over 140 shops offering traditional costume, sports equipment, jewellery and confectionery. Leogang favours a traditional range including regional craft and genuine Pinzgau products.
More details
Einkaufen
Shopping in der Einkaufsstadt Saalfelden und dem Traditionsdorf Leogang
Saalfelden wird zurecht als Einkaufsstadt gepriesen: in der drittgrößten Stadt des Bundeslandes Salzburg findet ihr über 140 Geschäftslokale mit Trachten, Sportausrüstung, Schmuck und Confiserien. In Leogang überwiegt das traditionelle Angebot mit regionalem Handwerk und echten Pinzgauer Produkten.
Mehr Details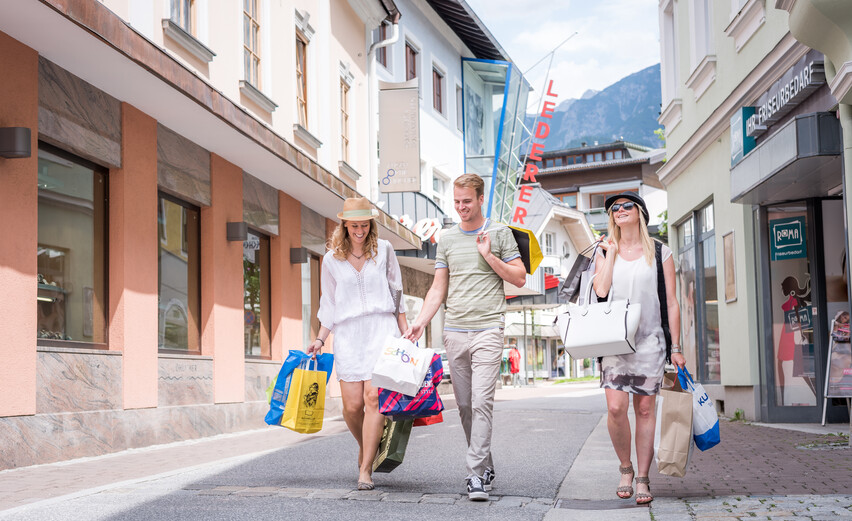 Nutrition and indulgence
Pinzgau products – "Echt.Gsund.Guad." 
Is there any better part of a holiday than sampling the local cuisine? Pinzgau is renowned for its down-to-earth meals and high-quality products such as cheese, sausage, vegetables and schnapps. Get a close-up view of the producers at work, taste the wonderful products for yourself and buy them right where they are made. Don't forget to watch out for the green seal of quality that reads "Echt.Gsund.Guad": comprising the words "genuine", "healthy" and "good" as spoken in the local dialect, this label identifies products from the region.
More details
Many people believe everything tastes better on the mountain. But why? Well, because the Pinzgau products are good and simple and often made by the mountain farmers themselves.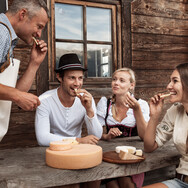 Action
Flying Fox XXL - die Stahlseilrutsche der Superlative
1.600 m lang, 143 m hoch und 143 km/h schnell – der Flying Fox XXL ist eine der längsten und schnellsten Stahlseilrutschen der Welt! Zugegeben, der Flug vom Berg ins Tal erfordert etwas Mut, doch ausprobieren lohnt sich! Ein gemeinsames Erlebnis, das zusammenschweißt.
Mehr Details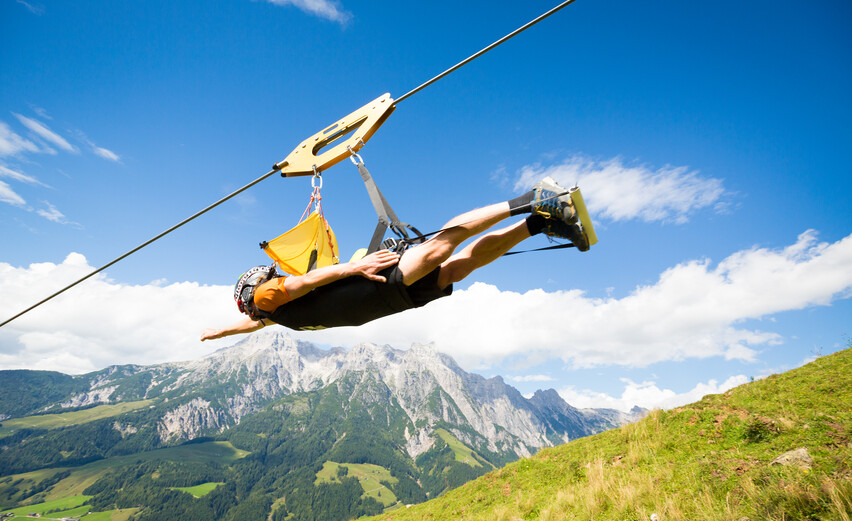 Golf
Gain momentum between the water, grass and rock
Whether you're a golfing novice or a highly experienced player, the 18-hole golf courses and dedicated golf academies at Urslautal GC and Gut Brandlhof GC cater to all abilities. After completing your round, you can visit one of the club restaurants to discuss how to make further improvements to your game.
More details
Kulinarik
Haubenregion Saalfelden Leogang
Zurecht darf sich Saalfelden Leogang als Haubenregion bezeichnen, immerhin wurden 2021 insgesamt vierzehn Hauben von Gaullt Millau auf nur 7 Restaurants verteilt. Die kompromisslos hohe Qualität der hiesigen Küchen, das Einfallsreichtum der Köche in Kombination mit den puristischen Pinzgauer Gerichten und der Fokus auf heimische Produkte sind die kulinarischen Steckenpferde. Echter Genuss in verschiedenen Settings, von traditionell bis chic, ist die Grundlage für einen geselligen Abend mit Freunden.
Mehr erfahren
Ob auf der Alm oder im Haubenrestaurant, Genuss wird in Saalfelden Leogang mit höchster Qualität und Handwerkskunst verbunden.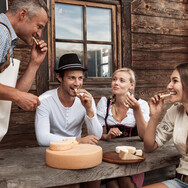 Bonus cards
Saalfelden Leogang Card
Visitors who spend their summer holiday in Saalfelden Leogang at a Saalfelden Leogang Card partner will benefit from the Bonus-Card and the range of services it provides: cable car rides, museums, the summer toboggan run and much more besides!
More details