More
Summer
Delights and lifestyle for friends - our best tips for the summer!
The culinary delights in Saalfelden Leogang range from a delicious breakfast in extraordinary accommodations and traditional local snacks at the mountain huts to tasty meals at excellent restaurants. But it's not only culinary delights that make this region so special. It's about unique experiences and cool locations in the midst of green hills and steep limestone mountains, in between a traditional village and a shopping city. Enjoy a marvellous time together! We have some tips for you.
Shopping
Shopping in city of Saalfelden and the traditional village of Leogang
Saalfelden is known as a shopping city - and this has a good reason: it is the third biggest city of the federal state of Salzburg and here you find over 140 shops, where you can buy nearly everything. Starting off with traditional cloths and sports cloths to jewellery and chocolate pralines. In Leogang you can buy a lot of local and homemade products from the Pinzgau region.
Read more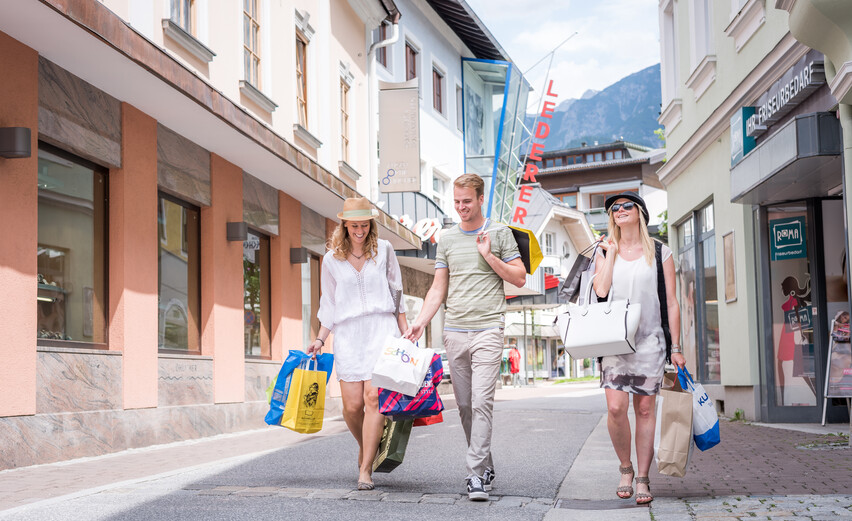 Balanced diet and pleasure
Products from the Pinzgau region - "Echt. Gsund. Guad." 
What could be better than a vaccation where you can taste some of the local products? The Pinzgau region is known for its uncomplicated dishes and high quality products like cheese, sausages, vegetables and schnapps. Come and see how different products are made and buy them directly at the farms. And keep in mind to always look for the green seal of quality, which says "Echt.Gsund.Guat." It marks products from the region.
Read more
Many people say that the dishes served at the mountains taste better. That's because the products are mostly local and homemade.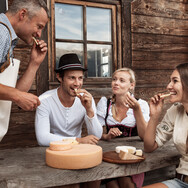 Action
Flying Fox XXL - the next level steel zip line
A length of 1.600 m, a height of 143 m and a speed of up to 143 km/h - the Flying Fox XXL is one of the longest and fastest steel zip lines in the world! The flight from the mountain into the valley requires some courage, but maybe you dare to try out something new and experience an unforgettable adventure together. It's definitely worth it!
Read more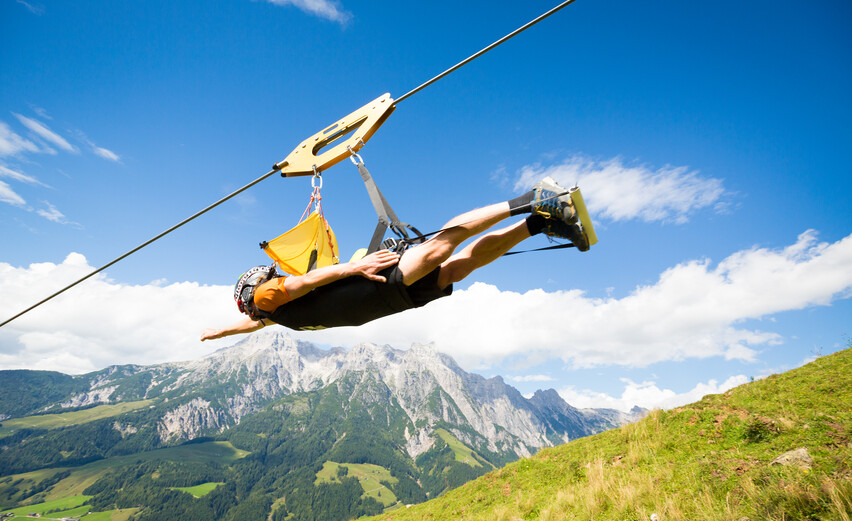 Series of Events
Tradition meets contemporary music - Almkultur
Imagine sitting at one of the many traditional mountain huts in the midst of the Alps, sourrounded by a fantastic view of the mountains, enjoying good food and drinks and a live concert! As part of the Salzburg Alpine Summer, art and cultural projects take place weekly from July to September on the surrounding pastures and mountain huts.
Read more
Culinary Delights
Saalfelden Leogang - a region of culinary delights
Saalfelden Leogang can call itself a region full of culinary delights, after all, in 2021 a total of 14 "Hauben" (the Austrian equivalent to the Michelin stars) were awarded by Gaullt Millau to only seven restaurants. The uncompromisingly high quality of the local cuisine, the creativity of the chefs and the local dishes of the Pinzgau region are absolute highlights, indeed. Real pleasure in different settings, from traditional to chic - this is the basis for an unique evening with friends.
Read more
Doesn't matter whether at a mountain hut or in a fancy restaurant, you can enjoy high quality products everywhere in Saalfelden Leogang.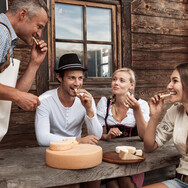 Advantage cards
Saalfelden Leogang Card
With the Saalfelden Leogang Card you have got many advantages in summer! Included are for example free ascents and descents with the cable cars, entrance in museums, summer tobogganing and much more!
Read more