More
guided hike
Medicinal Plants Hiking Tour
What amazing things can you find growing at the edge of the trail? And do you know how beneficial dandelions, daisies and coltsfoot are for our health and our palate? The medicinal plants hike is all about these little powerhouses that are dotted around our meadows.
More Details
Nutrition and indulgence
Pinzgau products – "Echt.Gsund.Guad." 
Is there any better part of a holiday than sampling the local cuisine? Pinzgau is renowned for its down-to-earth meals and high-quality products such as cheese, sausage, vegetables and schnapps. Get a close-up view of the producers at work, taste the wonderful products for yourself and buy them right where they are made. Don't forget to watch out for the green seal of quality that reads "Echt.Gsund.Guad": comprising the words "genuine", "healthy" and "good" as spoken in the local dialect, this label identifies products from the region.
More details
Many people believe everything tastes better on the mountain. But why? Well, because the Pinzgau products are good and simple and often made by the mountain farmers themselves.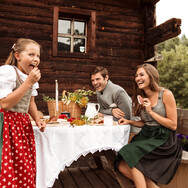 Bonus cards
Saalfelden Leogang Card
Visitors who spend their summer holiday in Saalfelden Leogang at a Saalfelden Leogang Card partner will benefit from the Bonus-Card and the range of services it provides: cable car rides, museums, the summer toboggan run and much more besides!
More details