More
SUMMER
Nature and relaxation for those who like to travel alone - our best tips for the summer!
In Saalfelden Leogang you have got unlimited possibilities to choose from. It's a region full of contrasts : lush green hills contrary to steep and rocky lime mountains, enjoyable hiking trails contrary to thrilling experiences. "The way I want" - when here on vacation, you can do whatever you want to. Spend an unforgettable time and simply enjoy the beautiful nature which surrounds you.
ACCOMmODATIONS
Enjoy some time off at a wellness hotel
Just relax. Find harmony and balance within yourself and simply concentrate on your needs and well-being. Maybe you need a long hiking tour? Or maybe you need to have a sauna to relax your sore muscles. The wellness hotels in Saalfelden Leogang offer a wide range of programs and treatments and create a good atmosphere, where you can simply feel comfortable.

Read more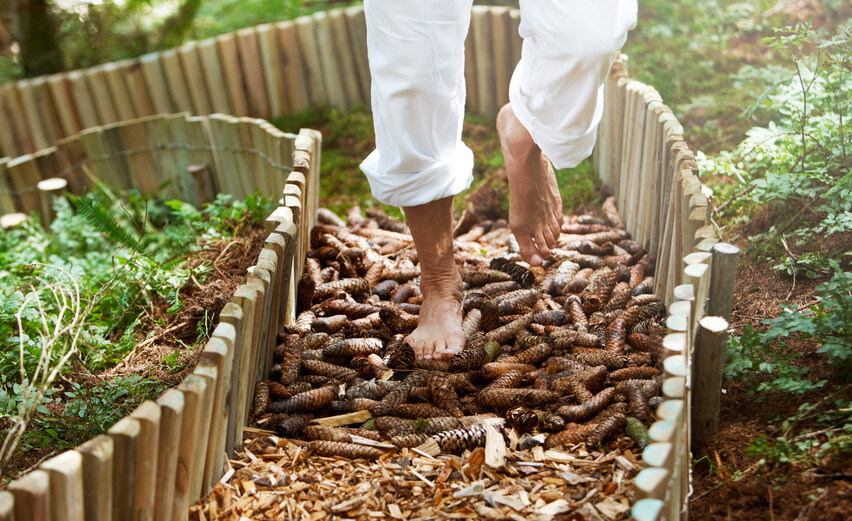 BALANCED DIET AND PLEASURE
Products from the Pinzgau region: - "Echt. Gsund. Guad"
Are you looking for new things to taste? When visiting one of the local farm shops or farms, you can experience at first place, how delicious cheese, sausages, eggs, vegetables and schnapps are produced and sold. When you want to be absolutely sure that the products are from the region, just look for the green quality seal which says: "Echt.Gsund.Guad." It marks the products from the region.
Read more
Tip: On our website you find several recipes, which you can easily cook at home!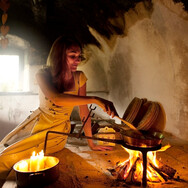 EXPERIENCE OF SENSES
Cinema of Nature at the summit of the Asitz mountain
As soon as a landscape is as thrilling as it is in Saalfelden Leogang, you do not need to go to the movies. Just enjoy nature with all its colours and forms, sounds and scents. At the summit of the Asitz mountain in Leogang you can choose from one of the relaxing seats and simply enjoy what nature has to offer. Do not forget some snacks and appropriate clothes!
Read more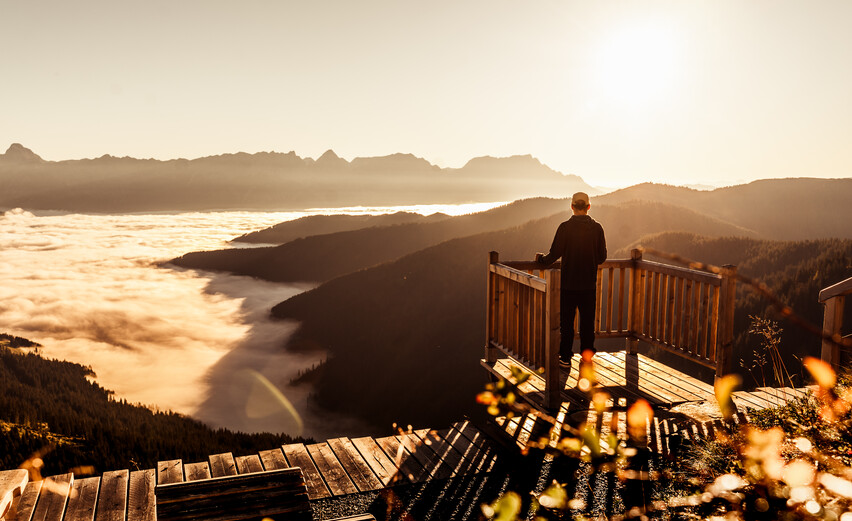 WEEKLY PROGRAM
Step by step towards the sun
The magic of the first sunrays, which light up the world around you, cannot be told, it must be experienced! Waking up early and hiking up the mountain as soon as possible is really worth it, when you get to see the beautiful sunrise. The light lets the massif Steinernes Meer and the massif Leoganger Steinberge glow and shine in the morning. And don't forget about the breakfast on a mountain hut afterwards - that's how each day could possibly start!
Weekly program
SIMPLY HIKING
Simply relax in one of the wooden swings
"Simply hiking" is the motto in Saalfelden Leogang. You do not need everything connected with hiking, just put on your hiking boots, grab your backpack and just go wherever you want to. Escape the everyday stress and just enjoy the nature around you. Stop for a moment and relax in one of the wooden swings. Here you can enjoy the silence and peace and listen to the voices of the forest. An unforgettable moment just for you.
Simply hiking
Doesn't matter whether flat or steep, lush green or stone grey, relaxing or exhausting - there are 400 kilometres of hiking trails!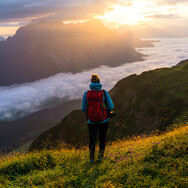 ADVANTAGE CARDS
Saalfelden Leogang Card
With the Saalfelden Leogang Card you have got many advantages in summer! Included are for example free ascents and descents with the cable cars, free use of public transport with the mobility card and much more!
Read more