More
Place of energy
On the vitality hiking path to the Hermitage
The Hermitage is 350 years old and is the last inhabited one of its kind in Europe. The chapel huddles close to the rock and creates a truly spectacular impression. Hikers are also treated to an exceptional view over Saalfelden from the Hermitage.
Plan your hiking tour
Event centre
Pure culture at the Kunsthaus Nexus
Legendary club events, top-class jazz concerts, entertaining film evenings and contemporary art exhibitions – there's always something going on at the Kunsthaus Nexus! Don't forget to take a look at the current programme, as you're sure to find an event that interests you.
More details
Nutrition and indulgence
Pinzgau products – "Echt.Gsund.Guad."
Is there any better part of a holiday than sampling the local cuisine? Pinzgau is renowned for its down-to-earth meals and high-quality products such as cheese, sausage, vegetables and schnapps. Get a close-up view of the producers at work, taste the wonderful products for yourself and buy them right where they are made. Don't forget to watch out for the green seal of quality that reads "Echt.Gsund.Guad": comprising the words "genuine", "healthy" and "good" as spoken in the local dialect, this label identifies products from the region.
More details
Many people believe everything tastes better on the mountain. But why? Well, because the Pinzgau products are good and simple and often made by the mountain farmers themselves.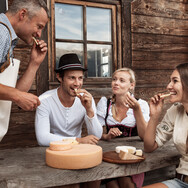 Kraftplatz
Auf zur Einsiedelei
Diese leichte Wanderung führt zur Einsiedelei, der letzten bewohnten Eremitage Europas. Leicht ansteigend führt der Weg durch den wildromantischen Wald, bevor sich die Kapelle im Felsen zeigt und sich gleichzeitig ein einzigartiger Blick auf das Tal und Saalfelden bietet. Nehmt euch Zeit, um die Stimmung und Ruhe dieses besonderen Orts voll auszukosten.

Mehr Details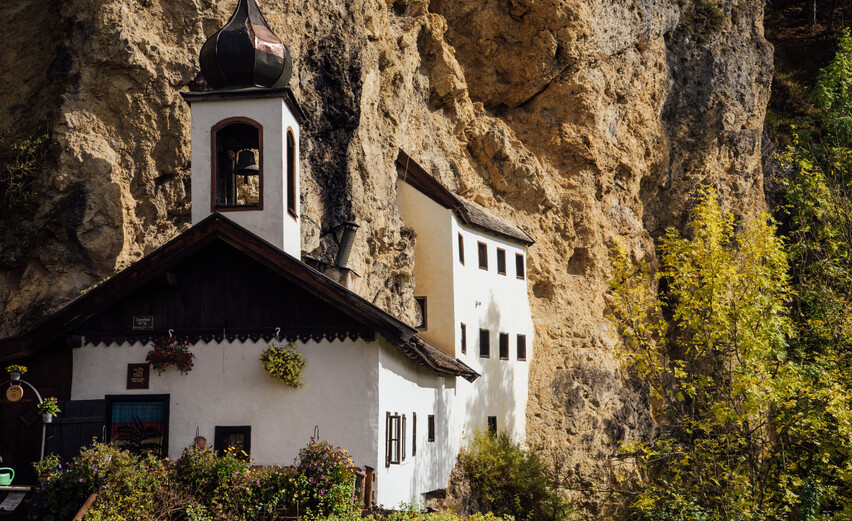 hikes
The art hiking trail at Asitz
Art and physical activity are combined on the art hiking trail between the mountain station and middle station of the Asitzbahn gondola lift. The exhibitions of art objects that line the trail are changed every year and are coupled with the view over the Leoganger Steinberge mountains – which do you find the most impressive?
Plan your tour
Sagenwanderung
Müllerfuchs
Begebt euch bei dieser leichten Wanderung auf die Spuren des Müllerfuchses, der einer alten Sage nach zwischen Wiesersberg und Lenzing sein Unwesen trieb. Die Tour führt vom Ortszentrum Leogang bis zu einem in den Berg gebauten, hölzernen Fuchskopf, welcher an die Sage erinnern soll.
Zur Wanderung
Gerade im Frühling zeigt sich die Natur von ihrer vielfältigsten Seite.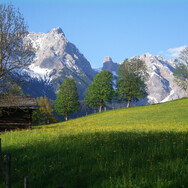 Vorteilskarte
Saalfelden Leogang Card
Noch mehr vom Urlaub haben: Achtet bei der Auswahl eurer Unterkunft darauf, ob die Saalfelden Leogang Card inkludiert ist. Mit der Vorteilskarte sind nämlich viele Leistungen in der Region kostenlos oder ermäßigt.
Alle Leistungen