More
action
Flying Fox XXL – the superlative steel rope slide
At a length of 1,600 metres, a height of 143 metres and a speed of 130 km/h, the Flying Fox XXL is one of the longest and fastest steel rope slides in the world! The flight from the Alpine pasture into the valley requires a little bravery, but perhaps you'd like to take it on together? You'll be glad you did!
More details
Stahlseilrutsche
Flying Fox XXL - Im Tiefflug ins Tal
Bereit für den Nervenkitzel der Extraklasse? Mit dem Flying Fox XXL rauscht du mit Höchstgeschwindigkeiten von 130 km/h in einer Höhe von bis zu 134 m und auf einer Länge von 1,6 km von der Alm ins Tal. Gigantische Bergkulisse inklusive!
Mehr Details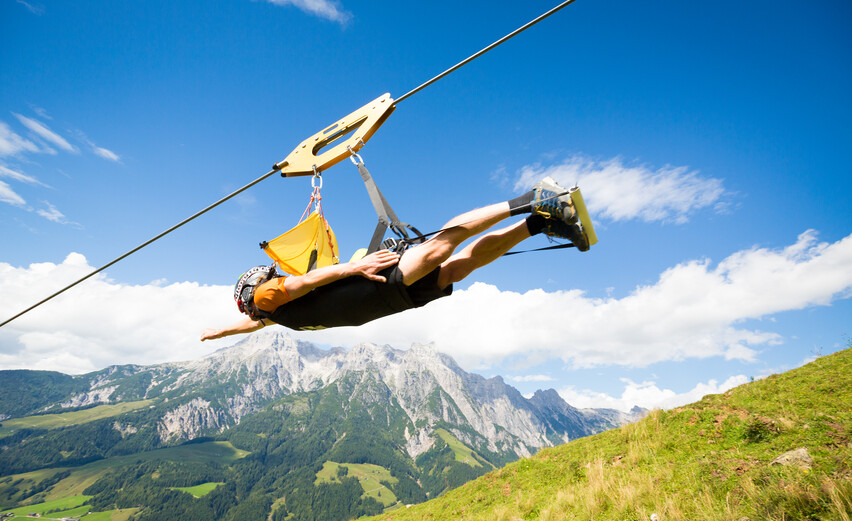 Hiking and walking
Spring awakening on the winter hiking paths
When the valley is blessed with pleasant temperatures despite there still being snow on the mountains, then heading out onto the cleared or snow-free winter hiking paths represents exactly the right way to get in step with spring in Salzburg. While taking a walk around the golf course or along the Sonnberg circuit in Leogang, you will experience the awakening of nature with all your senses.
Zu den Wanderungen
Each guest will find in Saalfelden Leogang his unforgettable experience, no matter on which way.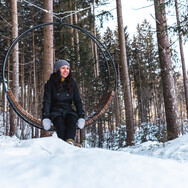 Sport and physical activity
Fully focused on archery
It's not just about who has the steadiest hand when drawing back their arrow and who has the best aim – archery doesn't have to be a competition. It is currently enjoying great popularity as it boosts concentration and endurance, strengthens your back and arms, and features all the excitement of going out to hunt together.
More details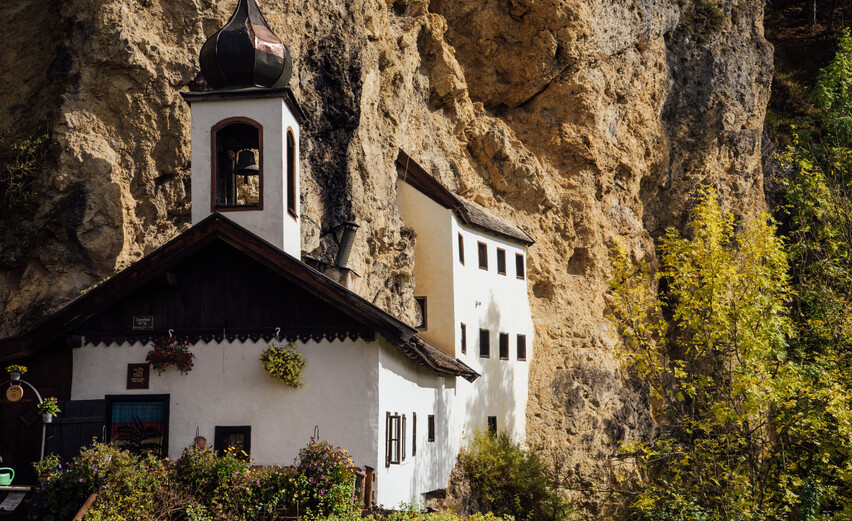 Accommodation
All-round pampering options at the wellness hotels
Why not be a little indulgent for once? How about starting things off with a champagne breakfast, getting out into the great outdoors, having a massage to soothe your sore muscles and enjoying total relaxation in the wellness area? If that sounds like what you're looking for, then the wellness hotels in Saalfelden Leogang, which offer typical regional treatments with a lasting recuperative effect, are just the ticket!
More details
Erholungsgebiet
Der Ritzensee, eine Naturschönheit
Gerade im Frühling ist es am Ritzensee am Stadtrand von Saalfelden besonders schön: Die Bäume stehen in voller Blüten, die Enten bevölkern vergnügt den See und die Sicht auf die Leoganger Steinberge und das Steinerne Meer ist einfach grandios. Ein leichter Spaziergang führt rund um den See, ideal zum Aufsaugen der frühlingshaften Landschaft.
Mehr Details
Der Frühling ist so kontrastreich wie Saalfelden Leogang selbst und bietet unendlich viele Möglichkeiten in der Natur.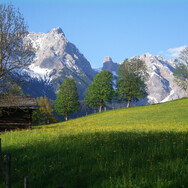 Vorteilskarte
Saalfelden Leogang Card
Noch mehr vom Urlaub haben: Wer seine Unterkunft bei einem Saalfelden Leogang Card Partnerbetrieb bucht, bekommt die Vorteilskarte und damit zahlreiche Inklusivleistungen und Vergünstigungen in der Region dazu.
Alle Leistungen