More
event centre
Pure culture at the Kunsthaus Nexus
Legendary club events, top-class jazz concerts, entertaining film evenings and contemporary art exhibitions – there's always something going on at the Kunsthaus Nexus! Don't forget to take a look at the current programme, as you're sure to find an event that interests you.
More details
events
Bauernherbst – experience the wonder of autumn
Harvest time is festival time! The state of Salzburg hosts a series of memorable events in the hope of toasting a bumper harvest. Traditional meals, genuine Pinzgau customs, musical interludes and a great atmosphere are the hallmarks of the Bauernherbst celebrations that are held amongst the stunning and colourful mountain scenery.At the Mining Museum in Leogang, you can travel back in time to the Middle Ages: sculptures, minerals and coins illustrate the history of Salzburg with a particular focus on mining and the Gothic. It's definitely worth a visit!
More details
"Tradition, customs and old crafts in the golden season"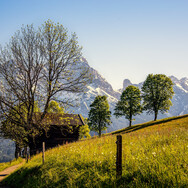 museums and mines
Experience 600 years of mining at the Leogang show mine
Can you imagine how cramped and dark the tunnels of the mine once were? Take a fascinating tour through the Leogang show mine to find out about the hard working conditions endured by the miners and marvel at what was created underground.
More details
place of energy
A visit to the last inhabited hermitage in Europe
For 350 years, it has been perched high above Saalfelden, almost fused together with the rocks and with nature: the Hermitage, the last inhabited one of its kind in Europe. The gentle hike through the colourful forest not only leads walkers up to the Hermitage, it also rewards them with an impressive view over Saalfelden.
Plan your hiking tour
Museums and mines
Mining and Gothic Museum Leogang
The Mining and Gothic Museum Leogang, an art museum dedicated to Gothic art in the context of mining, preserve Gothic art and European mining culture for posterity and engage the audience with this cultural memory. The high-profile collection includes outstanding masterpieces like the prayer nut of Mary of Burgundy, a woodcut by Albrecht Dürer and a panel painting by the Master of Laufen.
More details