More
horse-drawn carriage ride
An unforgettable horse-drawn winter experience
A horse-drawn sleigh ride is like taking a journey into the past before the advent of the car. Your children will be amazed at the strength of the Noriker horses – and you can enjoy the leisurely trip through the magical winter landscape.
More details
Pferdekutschenfahrt
Ein unvergessliches Erlebnis mit Pferden
Eine Pferdeschlittenfahrt ist wie eine Reise in die Vergangenheit, als es noch keine Autos gab. Lasst eure Kinder darüber staunen, wie stark die Norikerpferde sind, und genießt die gemächliche Fahrt durch die zauberhafte Winterlandschaft.
Mehr Details
winter sports
Nordic Park Saalfelden – winter sport away from the slopes
With 150 kilometres of cross-country skiing trails, a natural skating rink and pleasant winter hiking paths, the Nordic Park in Saalfelden offers a diverse range of winter sport activities away from the slopes. The Fun & Snow Park at Ritzensee lake is intended especially for kids, with short routes, small jumps and hills providing a fun way to try out cross-country sport.
More details
The extremely practical arrangement around Ritzensee lake provides training options, restaurants and much more.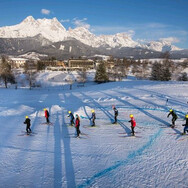 winter hikes
Got your winter shoes on? Then off you go!
Is there anything more wonderful than getting out into the snow? No other winter sport is as easy and straightforward as winter hiking. In Saalfelden Leogang, you can hike on optimally groomed hiking paths and head through the white fairytale landscape with a view of the imposing mountain ranges of the Steinernes Meer and the Leoganger Steinberge.
More details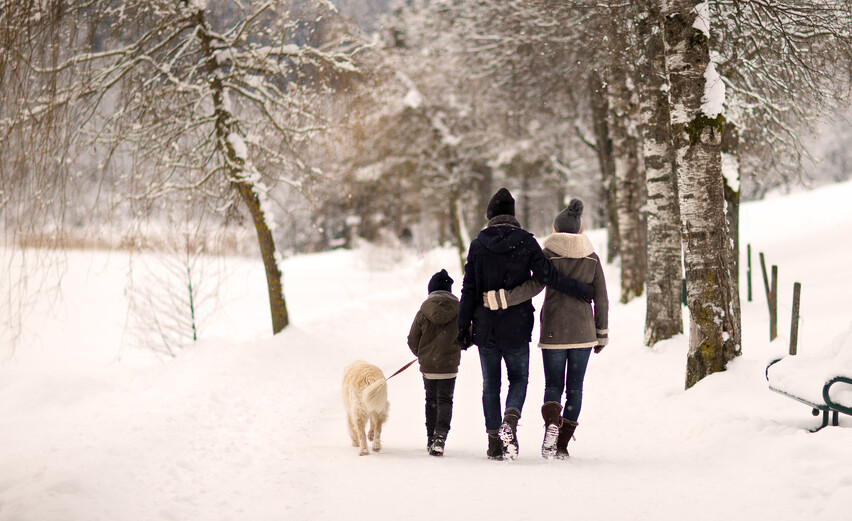 tobogganing
Total tobogganing fun for the whole family
A highlight for young and old alike! Make your way up on foot, with the lift or via a shuttle and zoom back down on two runners. It doesn't matter who's fastest, the most important thing is for everyone to have a good time – as the broad grins of those arriving down in the valley will demonstrate.
More details
Winterwanderprogramm
Mit Fackeln durch die Winterlandschaft
Einzig das Licht der Fackeln leuchtet euch den Weg bei eurem Abenteuer durch das Leoganger Ullachtal. Schritt für Schritt geht es durch Wälder und Wiesen, Geschichten entstehen in den Bäumen, mächtig wachen die Leoganger Steinberge über euch. Beim Lagerfeuer angekommen, könnt ihr das Erlebnis Revue passieren lassen und euch ganz dem Bann des Augenblicks hingeben.

Mehr Details
Ob bei Tag oder Nacht, Zeit mit der Familie in der Natur ist immer etwas Schönes!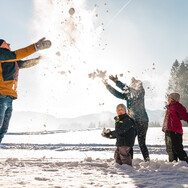 range of winter hikes
A torch-lit walk through the winter landscape
The light of the torches is the only thing illuminating the way on your adventure through the Ullachtal valley in Leogang. Step by step, you head through forests and meadows, passing the mythical trees while the imposing Leoganger Steinberge mountains tower above you. Once you reach the campfire, you can talk about the shared experience and truly lose yourselves in the moment.
More details