More
winter sports
Nordic Park Saalfelden – winter sport away from the slopes
With 150 kilometres of cross-country skiing trails, a natural skating rink and pleasant winter hiking paths, the Nordic Park in Saalfelden offers a diverse range of winter sport activities away from the slopes. The Fun & Snow Park at Ritzensee lake is intended especially for kids, with short routes, small jumps and hills providing a fun way to try out cross-country sport.
More details
Wintersport
Nordic Park & Nordic Park Experience
Der Nordic Park in Saalfelden bietet mit 150 km Langlaufloipen, einem Natureislaufplatz und gemütlichen Winterwanderwegen ein geballtes Wintersportangebot abseits der Piste. Mehrmals im Jahr findet die Nordic Park Experience mit chilliger Musik, köstlichem Essen aus der Region und allerhand Spaß für Familien statt. Für die Kids sind insbesondere die Wintergames zum Mitmachen ein absolutes Highlight.
Nordic Park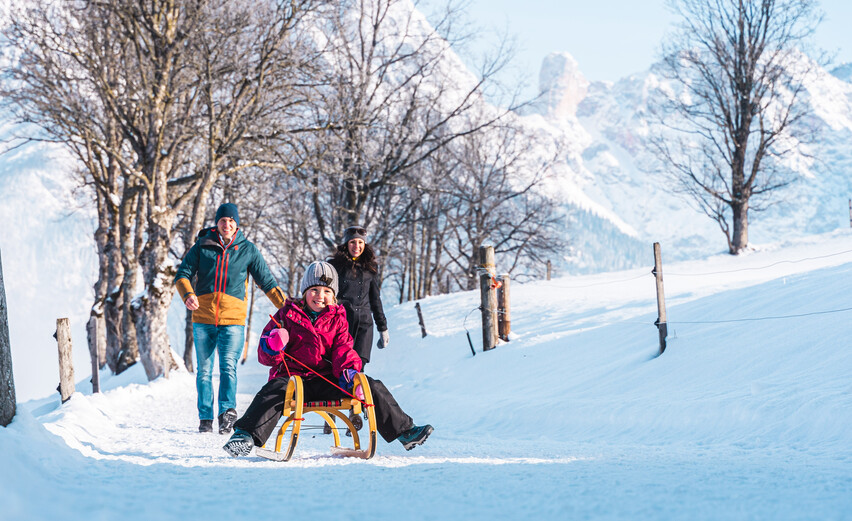 Skicircus Saalbach Hinterglemm Leogang Fieberbrunn
Top skiing region for families
Boasting 270 kilometres of slopes and 70 lifts, the Skicircus Saalbach Hinterglemm Leogang Fieberbrunn is perfect for families, with facilities including the sunny family platter lift, the Nitro Snowpark and professional ski schools. Fans of smaller-scale ski areas should head to Hinterreit, which features two drag lifts and is well-tailored to families.
More details
Anyone who skis this much will need to take a break sometime, so it's good to know that over 60 ski huts are there to cater to all your culinary needs.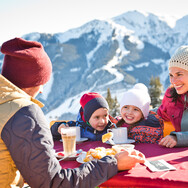 shopping
Shopping in Saalfelden and the traditional village of Leogang
Saalfelden is rightly seen as a shopping town: as the third-largest place in the state of Salzburg, it features over 140 shops offering traditional costume, sports equipment, jewellery and confectionery. Leogang favours a traditional range including regional craft and genuine Pinzgau products.
More details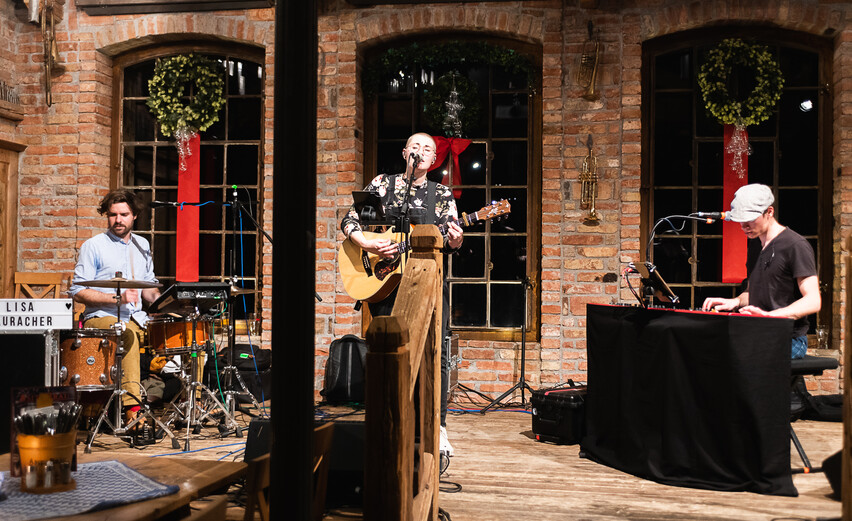 ski huts
Life just tastes better on the mountain
No matter whether you're a child sampling the slopes or a grown-up enjoying winter sport, everyone will have worked up an appetite after a few hours in Salzburg's brisk mountain air. The ski huts don't just fill you up, however – they provide a real feast for the palate with tasty cheese dumplings, shredded pancakes and spare ribs. The family-friendly atmosphere is sure to put all visitors in a good mood.
More details
Rodeln
Rodelspaß und gutes Essen
Ein Höhepunkt für Familien ist definitiv eine lustige Rodelpartie, entweder am Leoganger Asitz oder am Saalfeldner Biberg. Hinauf geht es zu Fuß, per Shuttle oder Lift, hinunter rasant und mit viel Lachen auf zwei Kufen. Unser Tipp: Die Gasthäuser bei den Rodelstrecken bieten typische Pinzgauer Speisen an!
Mehr Details
Dank Lift oder Shuttle ist auch der Aufstieg mit der ganzen Familie ein schönes Abenteuer!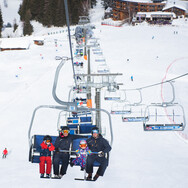 Nutrition and indulgence
Bladl, the delicious Pinzgau speciality
If there were ever a characteristic Pinzgau meal, then it is surely the "Bladl" – dumplings made from rye flour that are fried and served with a potato and bacon filling, with sauerkraut or as a sweet dish with lingonberries (known locally as "Granggn"). There are still a number of traditional Pinzgau inns in which you can sample this speciality.
More recipes