More
horse-drawn carriage ride
Glide through the peace of winter
What could be more romantic than sweeping through the peaceful winter landscape, huddling in warm blankets on a horse-drawn sleigh? Best of all, take a trip by moonlight – as you try to make out the silhouettes of the Steinernes Meer plateau, you will know that this is a very special moment.
More details
accommodation
A wonderful time for two 
Why not be a little indulgent for once? How about starting things off with a champagne breakfast, getting out into the great outdoors, having a massage to soothe your sore muscles and enjoying total relaxation in the wellness area? If that sounds like what you're looking for, then the wellness hotels in Saalfelden Leogang, which offer typical regional treatments with a lasting recuperative effect, are just the ticket!
More details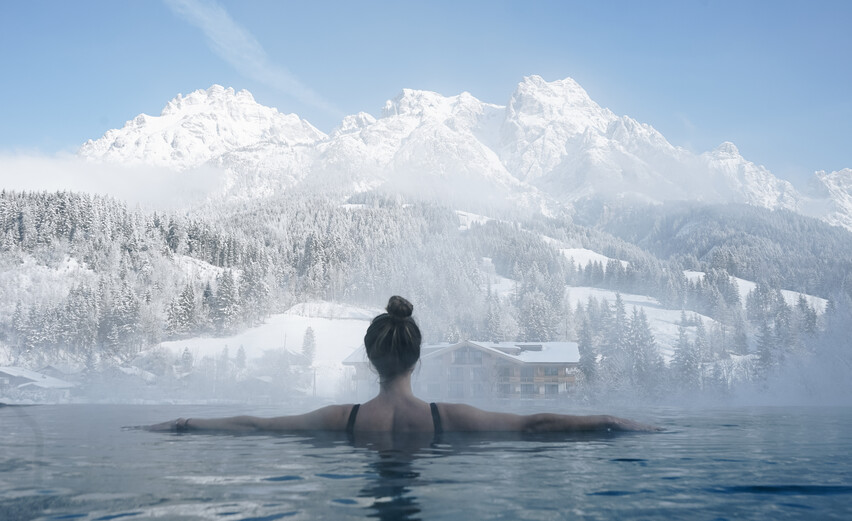 winter sports
Nordic Park Saalfelden – winter sport away from the slopes
As many of us know, winter sport can also be fun away from the ski slopes – but where else can you find a more varied programme than at the Nordic Park Saalfelden? Featuring a 150-kilometre network of cross-country skiing trails including floodlit trails for cross-country skiers and biathletes, a natural skating rink, the Snow & Fun Park for children, countless winter hiking paths and much more besides, it provides action-filled winter days amidst the Salzburg mountain landscape.
More details
The extremely practical arrangement around Ritzensee lake provides training options, restaurants and much more.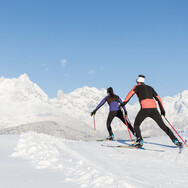 Hüttenkulinarik
Mehr als Kaspressknödel und Kaiserschmarren
Auch wenn sie noch so lecker schmecken: Das Genussangebot in den Skihütten umfasst um einiges mehr als Kaspressknödel und Kaiserschmarren. Vor allem die Vielfält ist beeindruckend: Traditionelle Gerichte und moderne Einflüsse passen hier hervorragend zusammen. Wie wäre es da, den Tag schon mit einem Frühstück am Berg zu beginnen? Oder bei einem feinen Sundowner die letzten Sonnenstrahlen auf einer der lässigen Sonnenterassen zu genießen.
Mehr Details
Pferdekutschenfahrt
Durch die Stille des Winters gleiten
Was gibt es Romantischeres als, eingehüllt in warme Decken, auf einer Pferdekutsche durch die ruhige Winterlandschaft zu schweben? Am besten noch bei Mondlicht, die Silhouetten des Steinernen Meers erahnend und wissend, dass dies ein ganz besonderer Moment ist.
Mehr Details
Winterwandern
Winterfilm ab im Naturkino!
Von der Bergstation des Leoganger Asitz geht es Schritt für Schritt nach oben. Am Gipfel erwartet euch das Naturkino, das dazu einlädt, es sich gemütlich zu machen und die beeindruckende Winterlandschaft auf sich wirken zu lassen. Mindestens genauso romantisch wie ein Indoor-Kinobesuch, nur die Snacks muss man selber mitnehmen.
Mehr Details
Ankommen, zurücklehnen, entspannen: Die wunderschönen TONspuren-Inseln verzaubern mit musikalischen Eindrücken der letztjährigen TONspuren-Konzerte.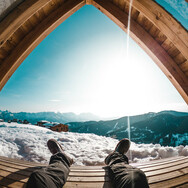 range of winter hikes
A torch-lit walk through the winter landscape
Torchlight and winter scents, the campfire and snow flurries – enjoy an unforgettable experience on a torch-lit walk through the wild and romantic Ullachtal valley in Leogang and prepare to be wowed by the wonders of the Leoganger Steinberge mountains by torchlight.
More Details