More
Winter
Nature and recreation for couples - our best tips for winter!
Finally some time for just the two of you! Saalfelden Leogang is the perfect region for romantic moments in nature. It offers ideal places for relaxation and exercise, oases of peace and action at the same time. Enjoy the spectacular mountains and relax between steep lime mountains and lush green grass hills, where you have unlimited possibilities to explore and make your vacation unforgettable. Here you find the best tips for your vacation in Saalfelden Leogang, where you can definitely enjoy your time together, with a lot of relaxation in nature.
Wellness hotels
Enjoy your couple time
Do you want to take a break from all the stress and everyday life? Do you want to start your day with a champagne breakfast, stroll around in the beautiful nature, have your sore muscles massaged and completely relax in the wellness area of your hotel? Then the wellness hotels in Saalfelden Leogang with its typical regional treatments, unique wellness areas with breathtaking panoramic views of the mountains and a lasting effect of relaxation are just the right thing for both of you!
Read more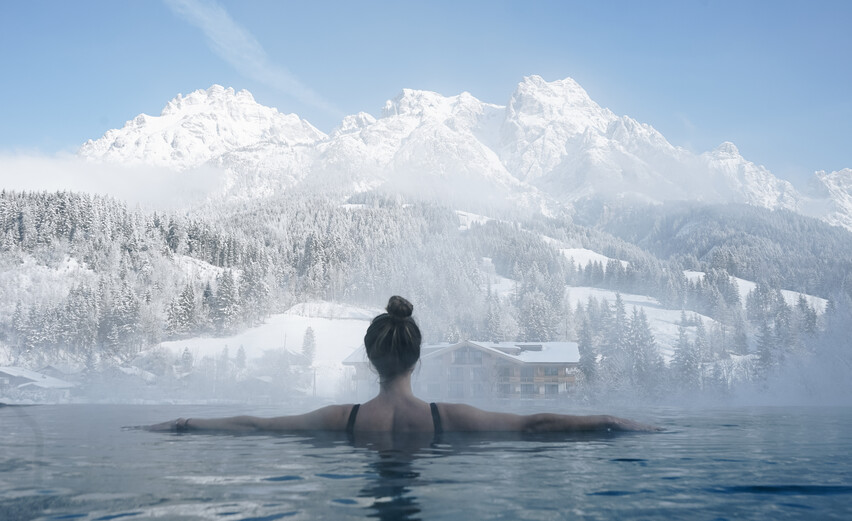 winter sports
The Nordic Park Saalfelden - winter sports far away from the slopes
A lot of you know that winter sports are fun, even when not skiing on perfectly groomed slopes. However, there is no place, where the offer of winter sports is as diverse, as it is in the Nordic Park in Saalfelden. The offer ranges from 150 kilometres of partly illuminated cross-country skiing courses for sports enthusiasts, a natural ice skating rink to the Snow & Fun Park for children and countless winter hiking trails. Enjoy sporty winter days here in Saalfelden Leogang, located in the middle of the mountain world of Salzburg.
Read more
Sport, training, relaxation - in the Nordic Park sports enthusiasts can explore diverse offers.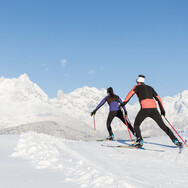 Culinary delights at ski huts
More than cheese dumplings and Kaiserschmarren
No matter how delicious they may taste, the range of delicious dishes at ski huts includes much more than only cheese dumpling soup and Kaiserschmarren. Let yourself be impressed by the diverse offer: traditional dishes and modern influences blend in perfectly here. How about starting your day with a tasty breakfast on the mountains? Or enjoy the last rays of sun on one of the cozy sun terraces with a fine sundowner.
More details
horse drawn sleigh ride
Glide through the silence of winter
What can be more romantic than gliding through the silent snow-white winter landscape on a horse drawn sleigh, all wrapped up in warm blankets? Preferably by moonlight, sensing the silhouettes of the massif Steinernes Meer and knowing that this is a very special moment.
Read more
Winter hiking
Enjoy a wintry view at the Cinema of Nature!
Starting at the mountain station of the cable car Asitzbahn, you can reach the summit Asitzgipfel within half an hour. At the top, there is the Cinema of Nature, which invites you to just sit down and enjoy the breathtaking view of the impressive snow-white mountains. This experience is definitely as romantic as watching a movie in a cinema, however you just have to bring your own snacks.
Read more
Arrive, sit down, lean back and enjoy: the beautiful TONspuren Islands charm with acoustic impressions of last year's TONspuren concerts.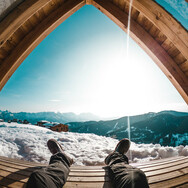 Advantage card
Saalfelden Leogang Card
The Saalfelden Leogang Card makes it even easier to relax in nature. In winter, you have many advantages and can benefit from numerous inclusive services, such as a free ascent and descent with one of the cable cars (Asitzbahn or Steinbergbahn), free use of the cross-country skiing courses and the ice-skating rink, free use of the sauna in Saalfelden and Leogang and a lot more! When choosing your accommodation, make sure the card is included.
Read more