More
Place of energy
On the vitality hiking path to the Hermitage
An ideal option for families is the easy hike to the last inhabited hermitage in Europe. There is a relaxed ascent through the forest before the charming location comes into focus – at the same time, hikers can also enjoy an impressive view over Saalfelden.
Plan your hiking tour
Legends and myths
Myth hike
Whether you are young or old, forget the everyday life for a moment and immerse yourself in the mystical and legendary world of the Saalfelden Leogang region. Attention: A little spark of truth, however, is in every "story".
More details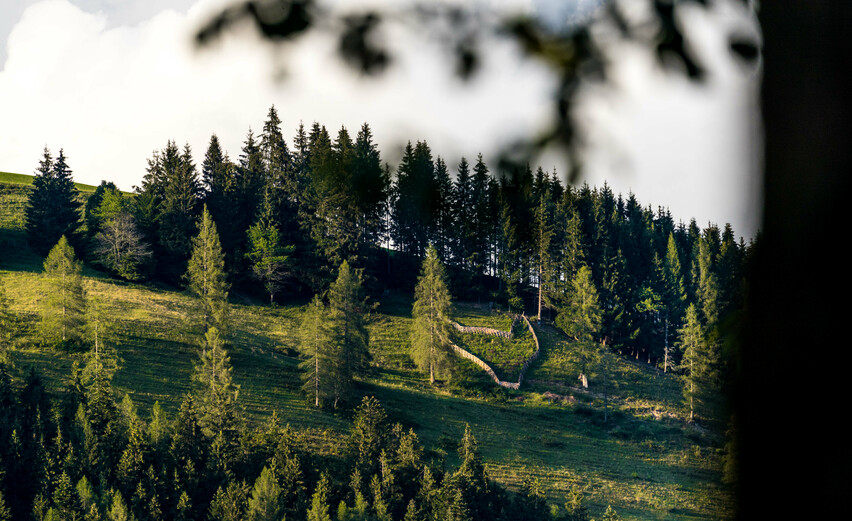 Nutrition and indulgence
Pinzgau products – "Echt.Gsund.Guad."
Kaiserschmarren (shredded pancakes), cheese dumplings and traditional Pinzgau "Bladl" – all washed down with a quality schnapps (just for adults, of course). The fare served up by the inns is often grown in the region. Take a trip to the direct sales outlets and familiarise yourself with the delicacies available at the farm! Keep a lookout for the green seal of quality that reads "Echt.Gsund.Guad", which means "genuine, healthy and good" in the local dialect and identifies products from the region.
More details
Many people believe everything tastes better on the mountain. But why? Well, because the Pinzgau products are good and simple and often made by the mountain farmers themselves.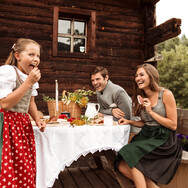 Event centre
Theatre and children's cinema at the Kunsthaus Nexus
The programme of events at the Kunsthaus Nexus will delight children everywhere: from the "Gschnaggatheater" children's theatre to the kids' cinema, events specially intended for children are held every week.
More details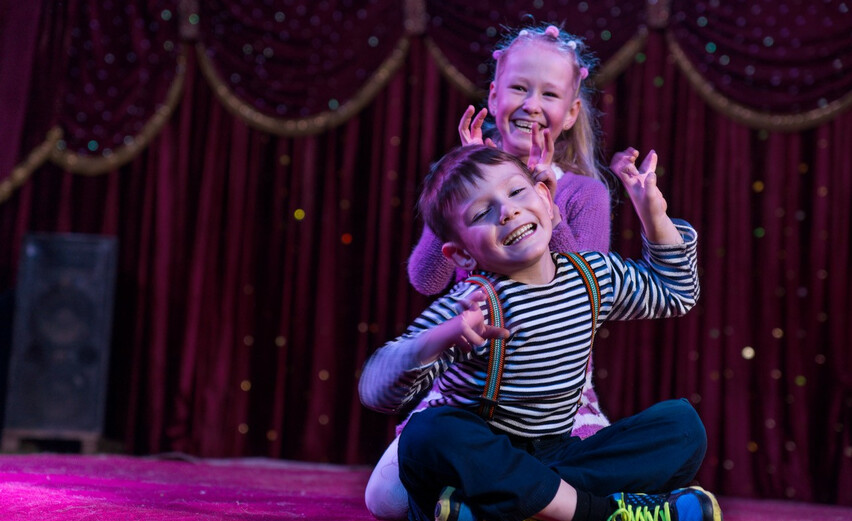 Kraftplatz
Über Stock und Stein zur Einsiedelei
Eine Wanderung zur Einsiedelei, der letzten bewohnten Eremitage Europas, sollte in keinem Familienurlaub in Saalfelden Leogang fehlen! Sei es wegen des abwechslungsreichen Weges, der wunderschönen Landschaft, der mystischen Kapelle im Fels und der nebenliegenden Höhle oder der traumhaften Aussicht, die sich von hier oben auf Saalfelden eröffnet.
Mehr Details
Neues lernen
Kurse bei der Buchbinderei Fuchs
Papierschöpfen, Upcycling, Kalligrafie, Kunstdruckverfahren und vieles mehr wird im vielfältigen und einzigartigen Kursprogramm der Buchbinderei Fuchs angeboten. Schaut einfach mal rein, vielleicht ist ja auch für euch etwas Passendes dabei.
Mehr Details
Für kleine Entdecker gibt es in Saalfelden Leogang so einiges zu erleben!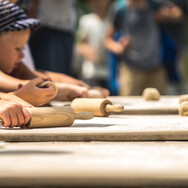 Vorteilskarte
Saalfelden Leogang Card
Noch mehr vom Urlaub haben. Gäste, die ihren Urlaub bei einem Saalfelden Leogang Card Partner verbringen, erhalten mit der Vorteilskarte zahlreiche Inklusivleistungen und Vorteile. So lässt sich der Aufenthalt besonders unbeschwert genießen.
Alle Leistungen