More
museum
Tradition and customs at Schloss Ritzen Museum
If you're interested in history and art, you'll love the Schloss Ritzen Local Museum. It boasts 24 sections featuring valuable exhibits, permanent exhibitions with prehistoric finds, minerals and a collection of cribs. The museum also holds special exhibitions on a range of particularly intriguing topics.
More details
events
Bauernherbst – experience the wonder of autumn
Once the leaves start to change colour, the days become shorter and the harvest is collected, then it's that time of year when the Bauernherbst celebrations take over the state of Salzburg once again. Experience real traditions, sample delicious traditional Pinzgau dishes, toast the beauty of the season with a good glass of Salzburg beer and enjoy the fantastic atmosphere with music and dance.
More details
"Tradition, customs and old crafts in the golden season"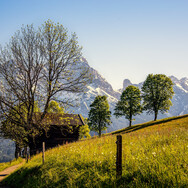 Cultural association
"Freiraum" – a space for art and culture
Open to new ideas, influenced by traditions – the events held by the "Freiraum" cultural association are as wide-ranging, colourful and diverse as the region itself. Curtain up for top-class theatre performances, sharp-witted cabarets, interesting workshops and much more!
More details
Place of energy
On the vitality hiking path to the Hermitage
Take your time and enjoy this special place! The hike to the Hermitage, the last inhabited one of its kind in Europe, is gentle and relatively short. Once you're there, the incredible atmosphere and unique beauty of this place will make you want to stay and linger at the 350-year-old Hermitage.
Plan your hiking tour
Event centre
Pure culture at the Kunsthaus Nexus
Legendary club events, top-class jazz concerts, entertaining film evenings and contemporary art exhibitions – there's always something going on at the Kunsthaus Nexus! Don't forget to take a look at the current programme, as you're sure to find an event that interests you.
More details