More
Skicircus Saalbach Hinterglemm Leogang Fieberbrunn
Sunshine skiing in the most laid-back skiing region in Austria
Skiing on firn snow slopes, enjoying a range of experiences on over 270 kilometres of slopes, eating in stylish mountain huts and taking a break on a lounger with a view over the Leoganger Steinberge mountains – these are the hallmarks of spring skiing at the Skicircus Saalbach Hinterglemm Leogang Fieberbrunn, the most laid-back skiing region in Austria.
More details
Climbing hall
Salzburg's most beautiful climbing hall
The sport of climbing builds your all-round strength and is based on trust, so what could be better than trying it out together? At the Felsenfest climbing hall, you can soar to new heights with a taster course – alternatively, more experienced climbers can take on a whole host of route- and boulder-related challenges.
More details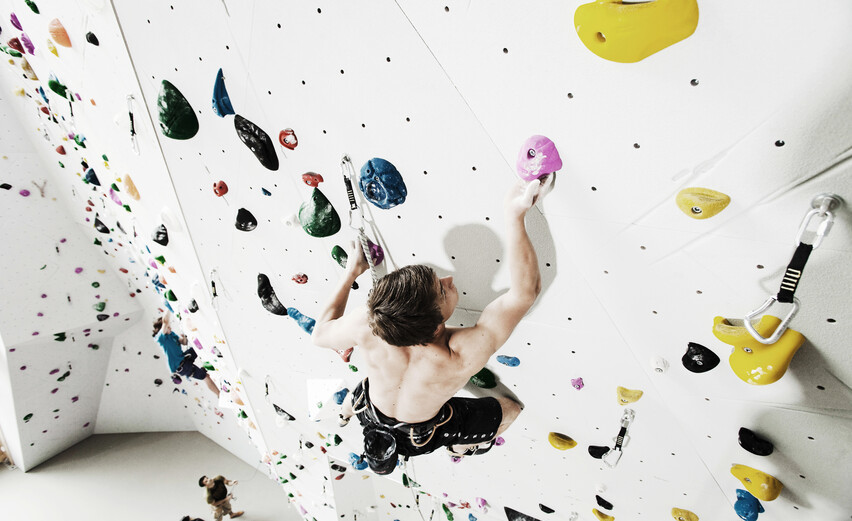 Sport and physical activity
The trail running paradise in the Alps
Over 120 kilometres of marked running trails leading between gentle grass-covered mountains and craggy limestone cliffs await you in Saalfelden Leogang. Find your favourite route between the mountain and the valley or between the city and the village. Enjoy the feeling of freedom as you head over hill and dale.
More details
sport and physical activity
Fun at the fitness and vitality course in Leogang
The modern fitness course in Leogang is like a huge play area for young and old alike. You'll need to use your balance and dexterity to conquer the wobbling, climbing and surfing challenges in the motor skills park. In contrast, the barefoot trail is primarily about sensations and experiences. A wide range of exercises in the impressive Leogang mountain landscape will help get the whole family moving.
More details
hiking
Taste sensations at the Steinalm
The gentle hike to the Steinalm inn starts directly above Saalfelden. The main highlights of this tour are the fantastic view over the wide Saalfelden basin and the culinary offerings at the mountain hut.
Plan your hiking tour